In some ways, one could claim blacksmithing has grown significantly less financially rewarding in recent years. This is because of the advent of mass production spearheaded by the industrial revolution.
A blacksmith's business was crucial to a community or farm throughout earlier centuries. Today blacksmithing is more artistically inclined. Blacksmithing lost its industrial prominence over the years but gained a personal touch.
From a traditional standpoint, blacksmithing appears to be a less realistic employment option. There are ways however that you can make the trade profitable.
Let's have a look at some quick strategies on 
Let's Make Money as A Blacksmith
---
01. Become An Apprentice for A Renowned Blacksmith
As straightforward as it may seem, apprenticeship is one of the phases you may not be able to skip if you want to pursue a career as a blacksmith.
All experts were once understudied to a master. As an apprentice, you need submissiveness, dedication, a desire to learn, and hard work.
Senior blacksmith forge iron at work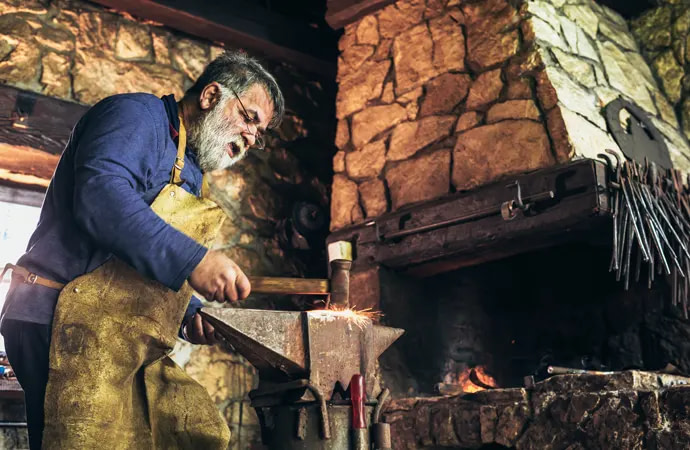 Identify A Possible Master
Once you've identified a possible master, becoming a blacksmith apprentice is relatively straightforward. After you have completed these courses, being an intern is the next logical step.
Internships or Apprenticeships 
Look for internships or apprenticeships that are available in your area. The purpose of this phase is to provide you with the opportunity to learn from renowned blacksmiths who are already working in the field.
A More Tangible Trade 
In the same way, it will introduce you to a more tangible trade aspect and help you improve your mastery of the necessary abilities. You will have the opportunity to deal with a wide range of materials and complete various procedures under supervision.
Furthermore, you'll be able to continue regularly practicing, allowing you to progress more quickly in developing your skills.
All Apprenticeships aren't Free
Nevertheless, not all apprenticeships are provided at no cost. Some are charged a fee. Nonetheless, if you are serious about pursuing a career in the field, paying for education shouldn't be a concern.
02. Sign up on Sites that Market Blacksmith Services.
You should embrace modern techniques of marketing, even if you operate in a classic art form. This is the best way for potential clients to learn about your business.
You must set up a website for your metalsmithing shop because it will serve as your primary marketing tool. You can promote your services, products, and special offers on your website.
Clients will also be able to reach you much more quickly.
Also READ: Knife Making Tools: An Ultimate Guide For Knife Smithing
03. Link up with Local Businesses and Get Orders
Your town is likely to have several networks or organizations that are made up of local businesses. These networks, usually founded by entrepreneurs, are designed to represent the business community's interests.
A prominent example of one of these networks, but with a broader scope of activities and advantages, is the chamber of commerce.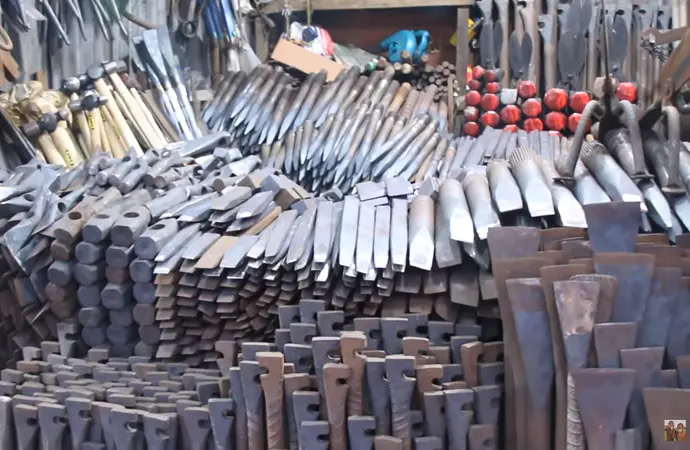 Through numerous special programs, online directories, and events, they hope to create excellent networking chances for their members.
What is a terrific opportunity here?
The chamber of commerce, or other local business networks, is a terrific opportunity to meet possible clients or business partners while also raising awareness of your company's products and services.
Others provide workshops on business development and management and access to business funding and other resources.
Costs and perks can be found on the website of the local chamber of commerce.
Create a Social Media platform
Create a social networking account or a media platform of your choosing. Because blacksmithing is a somewhat rare art form, people may be really interested in seeing your work and spreading the word about it to their peers.
Create products and tools and advertise and sell them on social media accounts such as Instagram and YouTube
Start with social media platforms such as Facebook, Youtube, Pinterest, and Instagram.
You need a good camera and perfect lighting
You do not have to be a great photographer to participate. All you need is a good camera and excellent lighting to get the job done.
Consider including a mix of videos and photographs, such as those of you working, videos and shots of your work in progress, and comprehensive videos or photos of completed work.
Stay active and continue a weekly update
Try to stay active and make a few weekly updates to get the most out of your account. People will become fascinated and will want to see more as a result of this.
Eventually, they may choose to order a piece of work from you.
SEE Also: 7 Biggest Blacksmithing Forums on The Web?
Use "Boost" on Social media
Advertise on social media sites such as Youtube and Facebook, where you can attract potential customers. Furthermore, you can target your advertisements to only reach specific sorts of people.
Suppose you are a manufacturer of armor, and you want to market to medieval re-enactors in your city.
Alternatively, for something a little more generic, perhaps people are interested in art in your locality.
Google AdWords is a good alternative 
Another alternative is to use Google AdWords. When Google users search for topics like blacksmiths in your area, you can pay a fee to display your company's ad on the search results page.
04. Design Artistic Products and List Them in Art Galleries and Shows
If you are more interested in the creative part of blacksmithing than the utilitarian side, you can consider seeing if local art galleries would be interested in displaying your work.
Besides generating attention and inquiries from those interested in commissioning a piece of their own, galleries will typically sell your work on your behalf for a percentage of the proceeds.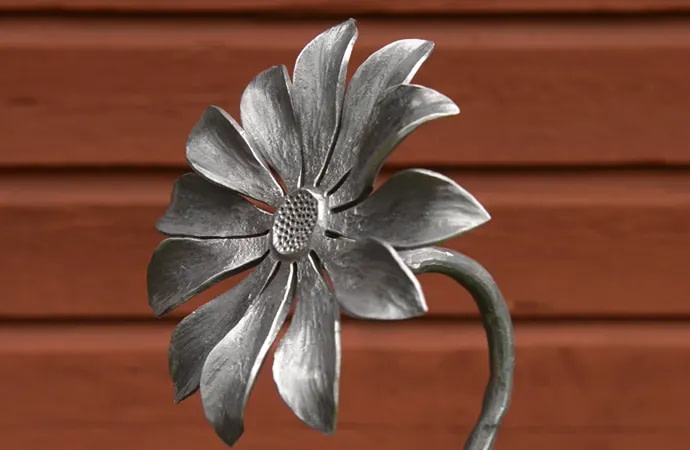 Few Creative Giveaways
---
Contests are a fantastic way to increase awareness of your metalworking business and gain new customers. You could host an online contest on your Social media page, with the only requirement being that people like and share your page to be eligible to win.
If you don't want to conduct the giveaway yourself, you may offer your work to a fundraising event as a means to get your work in front of more people.
A. Hold a Contest at a County Fair or Craft Fair
You might also hold a contest at a county fair or craft fair, in which you would award a prize to the winner. To participate, all that is required is that participants register with their email addresses.
To generate some interest in your business, you might present a discount voucher to anyone who enters your contest. Furthermore, you may always use those email addresses to send them promotional materials in the future.
Just ensure that they are aware and agree to that.
B. Harness the Web and Set up An Online Shop
If you want to make serious money doing metalworks, the best opportunity you have is to harness the web and set up an online shop of some form, whatever your skill level might be.
You can expand far more quickly than if you were trying to pitch or sell your things in person, and it's ideal if you don't enjoy dealing with people.
You May Also Like