A propane gas regulator is one of the most vital parts of a propane gas system. This component helps to lower the pressure from the gas cylinder to appliances in the system. It also controls the flow of gas.
The best propane regulator helps to create a safety barrier between the end appliances and the air pressure of the tank. This makes a propane regulator a crucial component of the propane gas system.
Remember that some appliances require a low floor of propane, while others need a stronger one. Outdoor propane regulators work in the same way, various applications will need different types of regulators. This means the selection of the propane regulator would depend on your application requirements. 
The demand for propane downstream of the regulator determines where to install it within the system and the type of regulator. For instance, some propane systems require multiple regulators to increase efficiency. 
The following are some of the major propane regulators.
Automatic changeover regulators
Integral two-stage regulator
High-pressure regulators
Adjustable air pressure regulators
First stage regulators
Second stage regulators
If you install the wrong type of regulator in your propane system, you may render the system unusable. Also, you may lose your money by purchasing a propane regulator from the internet or your friend. 
This is because all propane regulators are not the same. It's vital to adhere to safety regulations when replacing your propane regulators to prevent gas leaks and interruption of gas flow.
Avoid purchasing and installing the regulator on your own unless you are an expert. Engage in the services of a licensed gas plumber to handle the task.
How to Choose the Best Propane Regulator?
---
Choosing a propane regulator may be a challenging task, especially if it's your first time. Below are some factors that you can consider when choosing your propane regulator.
01. Ease of Installation
Although installing a propane regulator may not be difficult, you should purchase a regulator that is easy to install. This notwithstanding and sure you are regulator is installed by a licensed gas plumber. Propane regulators are installed differently depending on the application.
When purchasing a propane regulator, ensure it comes with all the hardware that will be required for installation. This ensures the process is hassle-free.
If you have challenges choosing an ideal propane regulator, seek the advice of professionals.
02. Maintenance
Regular maintenance is crucial if you want to get the best from your regulator and ensure it lasts long. A maintenance schedule for your propane regulator includes checking the seals, training, and also checking if it's in perfect working condition.
If you have any doubts about your regulator, seek professional help to know if you need to replace or repair it.
03. Regulator Cover
When purchasing your propane regulator, ensure it comes with a cover to protect it from harsh environments. The cover also ensures your regulator lasts long.
Some propane regulators come with their covers while for others you have to purchase the cover separately. If the regulator lacks a cover, it's in constant exposure to debris, dust, and dirt.
This means it can easily be blocked or you can also lose the seal. 
04. Quality Construction
When purchasing a propane regulator ensure it is made out of high-quality material. Because the regulator is on the outer side of the tank it should be sturdy.
We also have plastic regulators that are ideal but may freeze and crack in extremely low temperatures.
An ideal propane regulator should be made of stainless steel or solid brass. 
05. Gauge
The propane regulator should come with its gauge. The gauge helps you monitor how much propane you're using.
Some modern models include LED lights that alert you when the cylinder is empty.
How to Replace Your Propane Regulator?
---
Due to constant use, propane regulators are subject to wear and tear. This makes them less efficient. Proper maintenance by a registered professional will ensure your propane regulator works efficiently. Frequent inspections inform you when you need to change or repair your regulator. It's advisable to replace your propane regulator after every 15 years.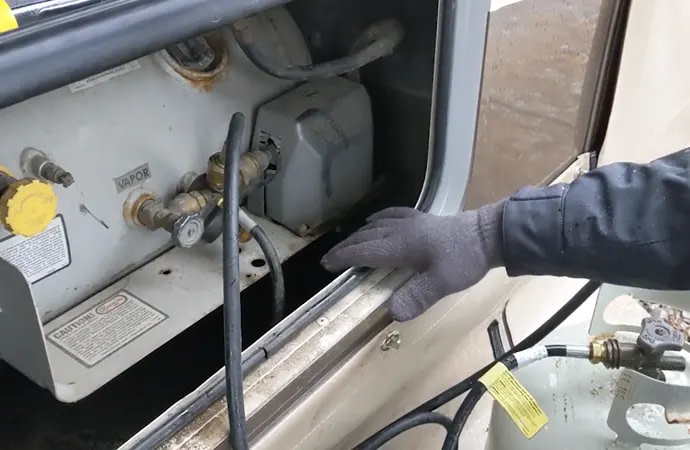 Some manufacturers recommend you change the regulator after every 25 years. If you need your regulator to be replaced, contact your propane supplier.
Remember, propane regulators should only be replaced and not repaired. Also, only a licensed propane professional should handle the task. 
Crucial Tips About Propane Regulators
---
If you frequently use a propane gas system, it's essential to familiarize yourself with its regulator because it is a vital component of the system. It's also essential to know how to choose the right regulator and how to use it safely. Here are Some Important Tips to Help You Out. 
01. Choose the right propane regulator 
Propane regulators come in different types for different applications and appliances. Choose the right propane regulator for your appliance. Before making a purchase and ensure the regulator meets your requirements. 
In this regard, avoid buying propane regulators online or from friends because you can do more harm to your propane system or lose your money.
If you purchased the wrong type of regulator, it may harm your propane system. 
02. Install a new propane regulator properly
After installing a new propane regulator, check for gas leaks. Also, ensure it has been installed properly. Avoid doing this on your own and seek the services of a professional to install the regulator.
They will also inspect any leaks before turning on the gas.
03. Ensure a cover to protect
Ensure your regulator has a cover to protect it from insects and other elements that may harm it. 
04. Keep track of the lifespan of your regulator 
Because you need to replace it according to the manufacturer's instructions. Depending on the type, you need to replace it anywhere between 15 to 25 years.
When in doubt, seek a professional opinion. 
05. Never adjust the pressure on your regulator. 
This task requires specific knowledge and special tools to undertake. It's best to leave this task to the professionals.
06. Inspect the vents on a propane regulator. 
Preventive maintenance is of utmost importance for the efficient functioning of your propane system. Because small critters, debris, and ice can clog up the holes and prevent your regulator from functioning efficiently.
It's vital to inspect it regularly if it's impossible to cover it. 
7. Avoid overfilling your propane tanks. 
If you overfill your propane tank, the excess liquid may enter the regulator. If this occurs, the regulator will gunk up and you may need to replace it. 
You May Also Like