Knife making or bladesmithing is a type of craftsmanship that aims to build a knife from scratch. It involves different processes such as stock removal, forging, and welded lamination. Knife makers have to begin with different raw materials like steel and wood to create the blade, handle, and other accessories of the knife.
Bladesmithing is certainly one of the best hobbies or jobs to take for anyone interested in knives. However, it is not promised to be an easy and fun task. There are many things to learn and it may take years to master the art of this craft.
One of the most important things when getting into knife making is the tools or equipment. Knife-making involves several steps and methodologies that can only be done with the right tools. Choosing the right tools is not always easy and oftentimes it can be confusing because of the many options. But with proper knowledge, you can definitely choose the best tools for you.
Keep on reading as we discuss the functionality of different knife making tools and their importance in bladesmithing. Whether you are a hobbyist or an aspiring professional knife maker, this information will absolutely help you out. Your dedication, ability, and knowledge together with the right tools, will surely make your knife-making journey a lot more interesting and rewarding.
Let's Get Start Essential Knife Making Tools
---
01. Abrasives
An abrasive is a tool used for smoothening out and shaping different materials like wood and steel. They are able to remove all unwanted roughness by rubbing or scratching them away.
Abrasives are important in knife making because they make the blade smooth and sharp. Some examples of abrasives are sandpaper, sand, and pumice.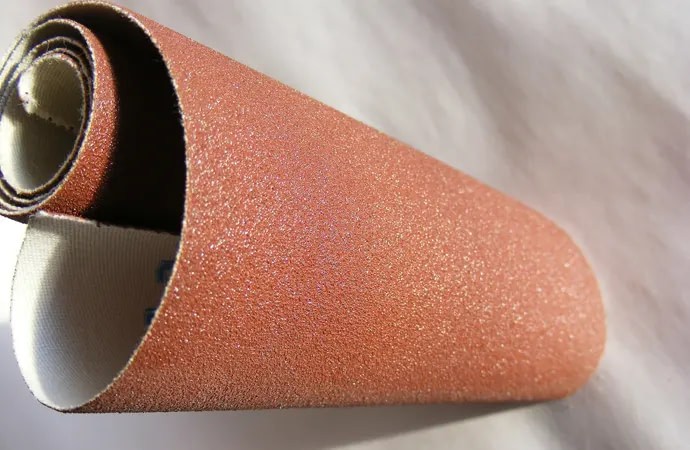 02. Blades
The material for the knife blades is steel. Steel is an alloy made up of iron and carbon. It also contains less than 2% of carbon and 1% of manganese. It is composed of little amounts of silicon, phosphorus, sulfur, and oxygen as well.
We are used to thinking that steel is just one type of material, but the truth is, steel comes in many forms. Below are the most famous steel types for knife making.
Stainless steel
Carbon steel
Tool steel
AUS steel
SXXV steel
Damascus steel
ATS steel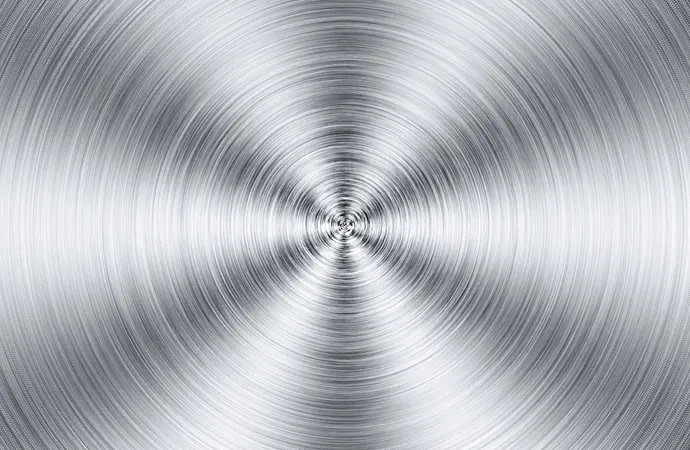 All of the mentioned materials make great blade materials however in an industry survey by Red Label Abrasives, it was noted that 53% of knife makers said stainless steel is their favorite blade material.
03. Burrs
Burrs also referred to as carbide burs or rotary files, are small tools used for milling and cleaning steel materials. It comes in a variety of shapes so you can choose a burr appropriate for your need.
Knife making may require different steps that need different burr shapes and sizes. I recommend buying a set of burrs instead of purchasing them individually. Make sure that the burrs in the set are in different shapes and sizes.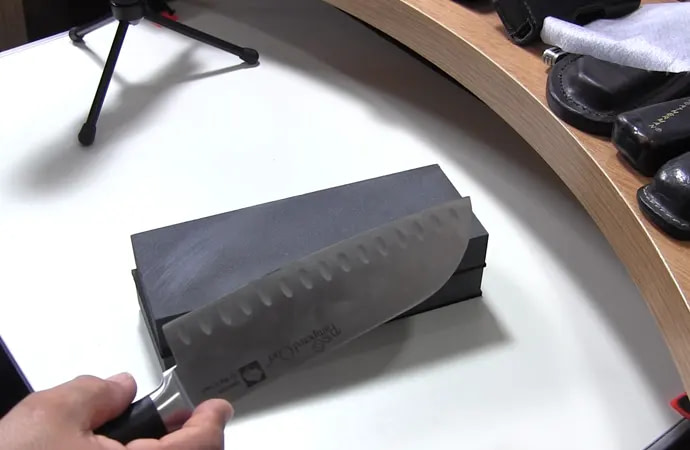 04. Calipers
Calipers are instruments used for obtaining precise measurements that can not be measured by rulers. Two of the best calipers you can get for knife making are carbon steel calipers and stainless steel digital calipers.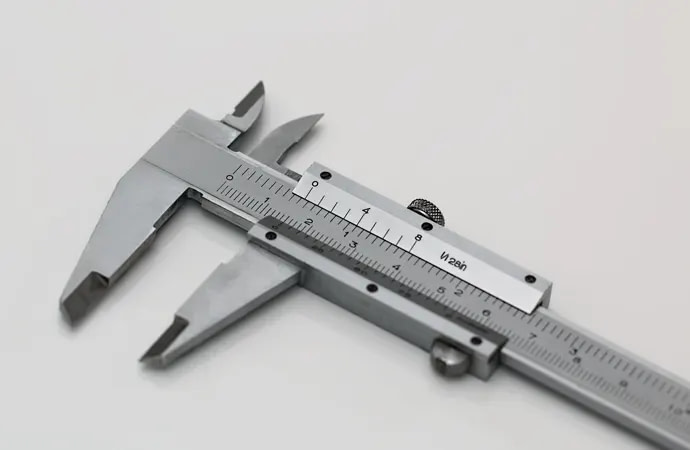 Carbon calipers are utilized for taking rough measurements and making sure that the edges are even. On the other hand, a stainless steel digital caliper is more advanced and capable of highly accurate measurements so you can be consistent with all the measurements of your knife.
05. Clamps
The clamp will hold the knife blade throughout the knife making process. The clamp will keep your knife secured and tight in place so you can work more efficiently and safely. It can also hold the knife handle as well when it's time for you to work on it.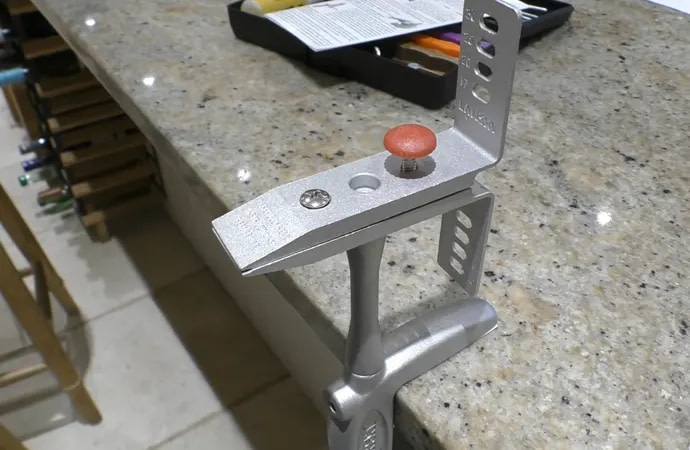 Clamps are sold at affordable price ranges nowadays. Some of the clamps you can consider buying are:
Pipe clamps
Welder's clamps
Bar clamps
C-clamps
In addition to the clamps, make sure that you have a sturdy and steady surface for clamping your materials.
06. Computer
Knife making is an art and people who can draw knife silhouettes beautifully and precisely have an advantage. However, if you are not good at drawing, you can always do it digitally with a computer.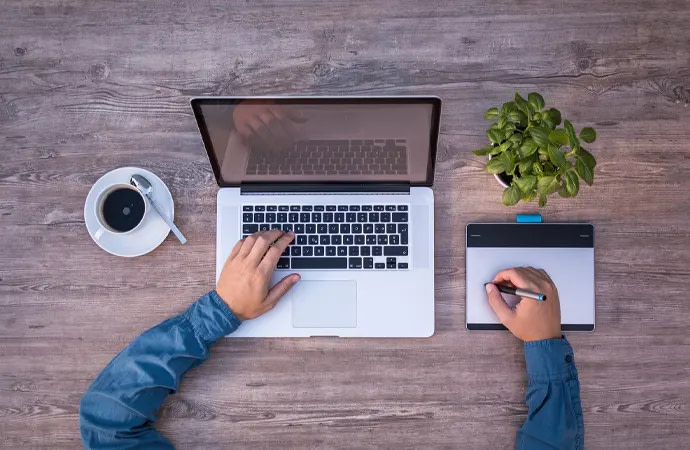 A computer allows you to draw a good knife pattern or silhouette for a beautiful knife. It allows you to create even lines and improve the design of your knife with a few clicks here and there on computer programs like Microsoft Publisher.
You can also opt to download knife design templates that you like.
07. Drills
Drills are power tools that make use of a rotating tip for making holes. Drills are necessary tools for punching holes in the blade. The holes are essential for assembling the knife blade and handle.
There are a variety of drills in the market today. Always choose a high-powered hand unit with a drill bit. I also suggest opting for a corded unit as wireless drills may not be able to provide the same power as ones that are directly connected to the electricity.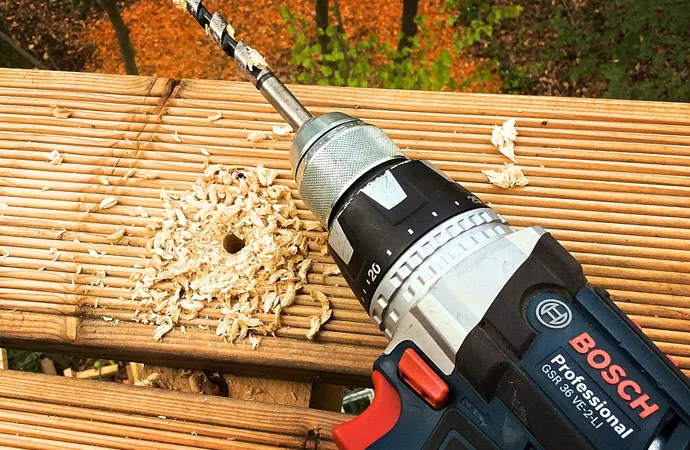 08. Drill press
A drill press is a type of power tool that is used for boring holes precisely in materials like wood and metal. Unlike a drill, the drill press is a bench-top machine and can only be used in one area.
The drill press is also more expensive compared to a drill but it can surely pierce holes easier and faster.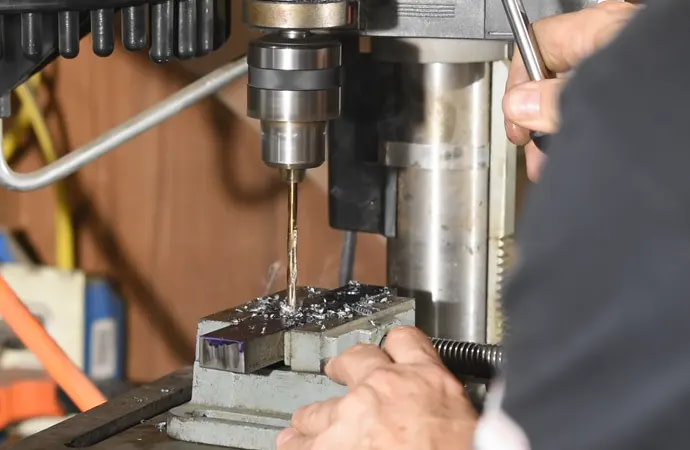 09. Dremel
Dremel rotary tools are used for grinding, sharpening, sanding, and polishing. They work similarly to grinders and are also used for working on metals.
Using a Dremel tool can make sharpening the knife easier as it makes use of mechanical power.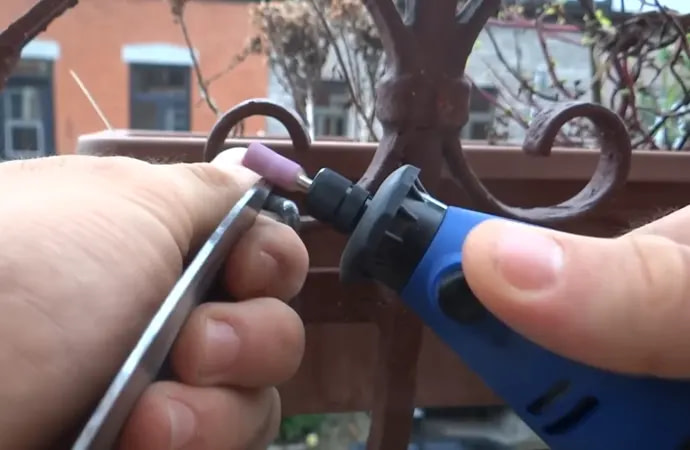 10. Etching kits
Etching tools are used for customizing the knife. From its name, an etching tool carves or marks your knife with your label or signature so it can be more personalized.
There are several etching kits you can buy nowadays that allow you to mark your knives quickly. When purchasing an etching kit, make sure that it is complete with necessary etching tools such as a marker unit, ground plate, stencils, and chemical solution.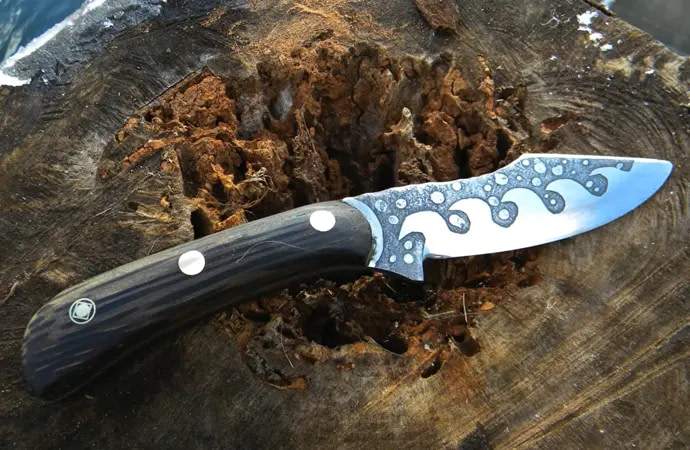 11. Files
Files allow you to shape your knife in your most desired shape or form. Before investing in electrical or digital tools, I recommend investing in files first.
Files are versatile tools that you can use for shaping not just the blade but also handles made from steel. It can also even out the knife edges and allows you to shape the knife in your desired angles.
When purchasing file sets, make sure that they have different file cut types namely bastard, second, and smooth cuts.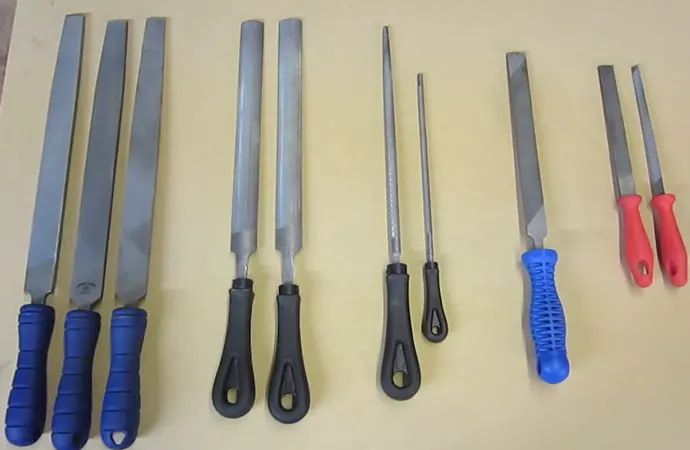 12. Forge
A forge is used for heating metals. It can heat up the metal up to the temperature that allows it to be shaped or molded. A forge allows you to mold your knife's blade according to your preference.
While forging your knife blade is certainly an exciting part of knife making, you can always opt to skip purchasing a forge as it can be very expensive.
Nevertheless, if you want to explore the art of forging your own blade, then a forge can surely help you out.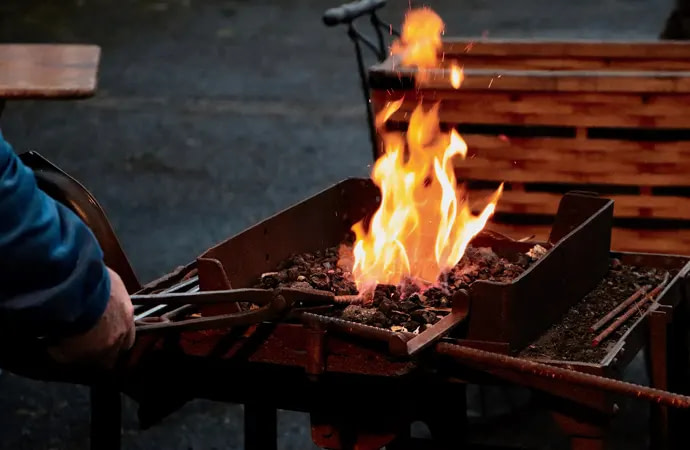 Also READ: Top 11 Best Propane Forges (Complete Buying Guide)
13. Grinders
Grinders are power tools used to smooth out the surface of the blade. It can also remove excess metal so you can have a more even blade surface and edge.
Smoothening out the blade can be tiring and time-consuming by using manual tools like files. Hence using an electric grinder makes a better choice for efficiency.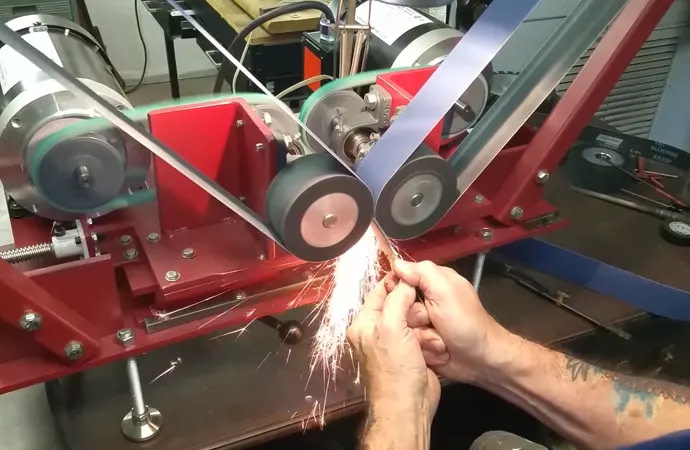 Also READ: Top 7 Best Belt Grinders for Knife Making (Buying Guide)
14. Hacksaw
The hacksaw is another great tool for knife making. It is used for cutting the knife blade from steel material. Although it cannot cut the blade precisely, especially on the corners, It can certainly help you to cut out a portion from your steel material for the blade.
Make sure that the hacksaw you use for knife making has a fine-tooth and sharp blade.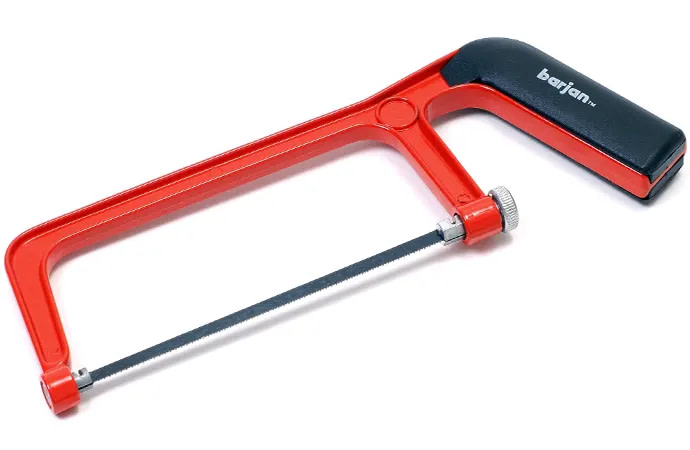 15. Jeweling Jig
Jeweling Jig also referred to as engine turning is a device used for engraving precise lines and patterns to metal. Just like an etching kit, a jeweling jig can add more details to your knife and make it more personalized.
16. Lubrication
Lubricating your knives will prevent corrosion and oxidation of the steel. It is usually done at the end of the knife-making process. It is essential for keeping the steel in good condition and ensuring longevity.
Some effective knife lubricants you can use are vegetable oil and all-purpose mineral oil.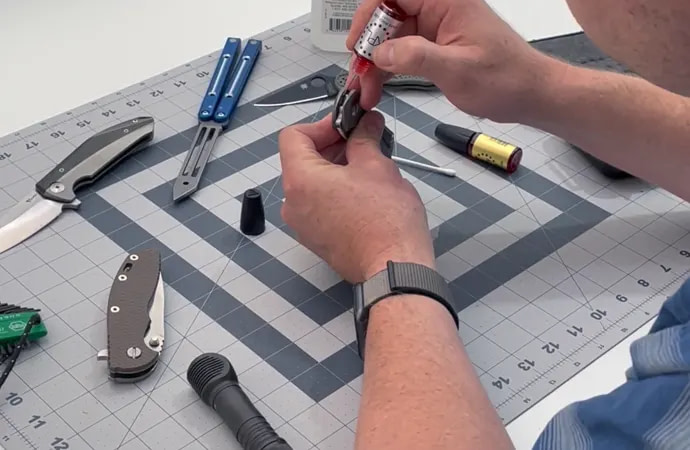 17. Sanders
A sander is a type of power tool that allows you to smoothen and polish metal and wood surfaces efficiently. There are three main types of sanders namely :
Disc sander
Belt sander
Orbital sander
In knife making, the disc sander is most commonly used because it can smoothen out cuts of thin objects like knives.
18. Screwdrivers
Screwdrivers are used for driving and tightening screws. It allows you to combine the knife blade and handle securely with a screw.
Obviously, you'll have to buy a screwdriver that is compatible with the screw that you will be using on your knife.
19. Serration Wheels
Serration wheels are tools designed to run on a grinder. It is used for creating serrations or serrated edges of the knife. The serrated design gives your knife a unique design and style.
Serration wheels do not come in many variations so you can easily buy them at different tools and hardware stores. However, remember to always check the quality before purchasing. An ideal diameter of serration wheels for knife making is 4.00″.
20. Spring Tools
Spring tools are used for setting or countersinking nails and pins. It allows you to hold the tip of the nail or pin with its edge. As one edge holds the tip, you can hammer the other edge of the spring tool and the nail will set inside the wood securely. // blacksmiths vs whitesmiths //
This tool is useful for knife-making when assembling a small knife blade and handle.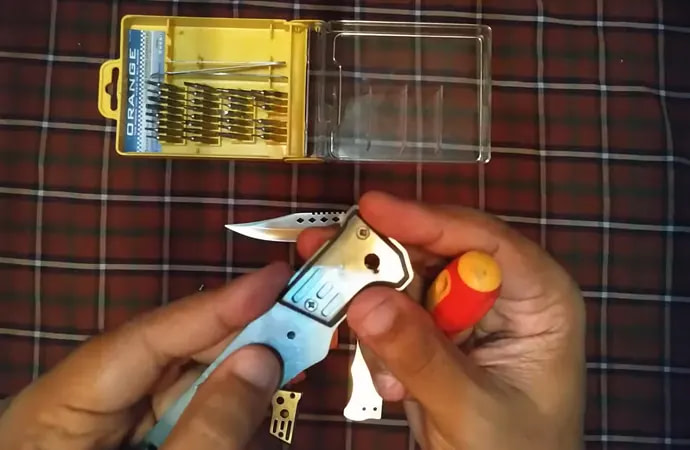 21. Sharpening Stone
From its name, a sharpening stone keeps your knife sharp for easy and effective usage. Some sharpening stones you can use are:
Water stones
Oil stones
Ceramic stones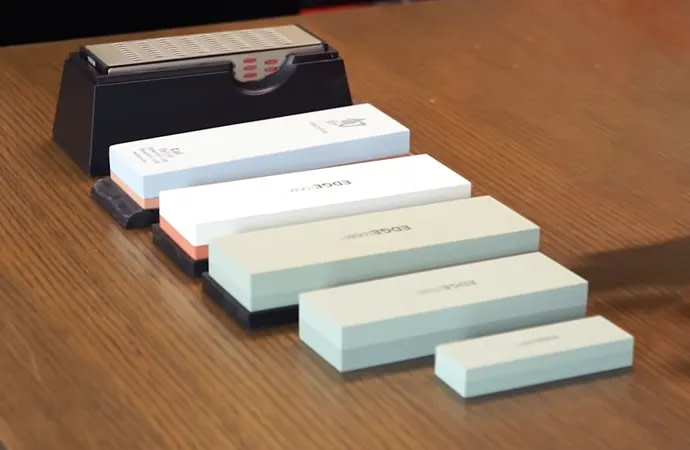 Each stone is different so make sure to know its features first before purchasing. Nevertheless, they are all capable of sharpening your knife effectively. It will all come down to preference.
22. Safety Gear
We know knives as dangerous tools and weapons. It is made with a sharp metal that can hurt and cause injuries with just a wrong move or handling. Hence, using safety gear when making knives is highly essential. The most necessary safety gears you should prepare for knife making are: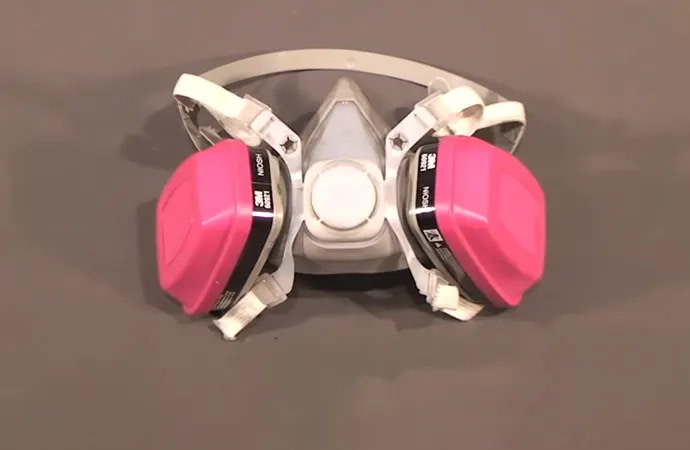 Safety glasses
Respirator or dust mask
Gloves
Fire extinguisher
23. Vises
A vise is a tool made with metal that is used for holding objects like knives firmly. Its firm hold secures the object so you can feel free and safe to move and work on it.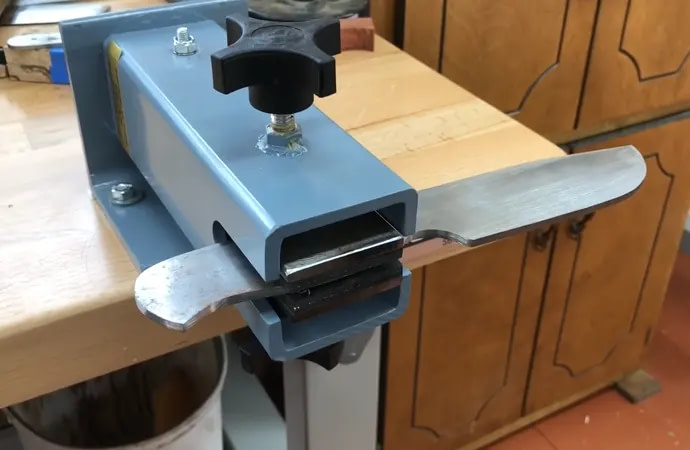 There are a lot of options to choose from when it comes to vises but I suggest going for a vise that has a 360-degree swivel base adjustment. This feature can let you change your positions easily when you need to.
What is The Tapping?
Tapping is the method of punching a thread inside a hole. This thread allows the screws or bolt to be threaded precisely into the hole. Tools used for tapping or tapping tools can be used for hard materials like steel making it very suitable for knife making.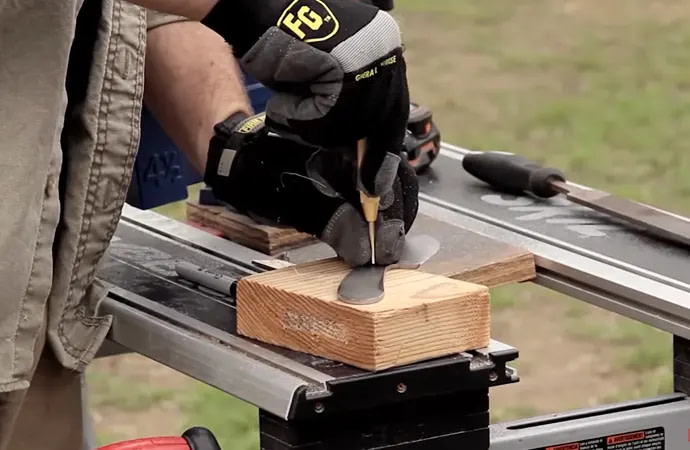 With a tapping tool, you can create appropriate holes for the screws you want to use for assembling the knife and the handle.
What is The Heat Treating?
Heat treating is a process of heating metals and cooling them down under control. Heat treating is important to harden the steel and ensure that it's strong enough for usage. Heat treating can be done with a torch or an oven.
A torch can apply heat to the knife blade but is very likely to cause uncontrollable heat and inconsistent results. The best and most handy resort for heat treating is using an oven as it can control and distribute heat evenly.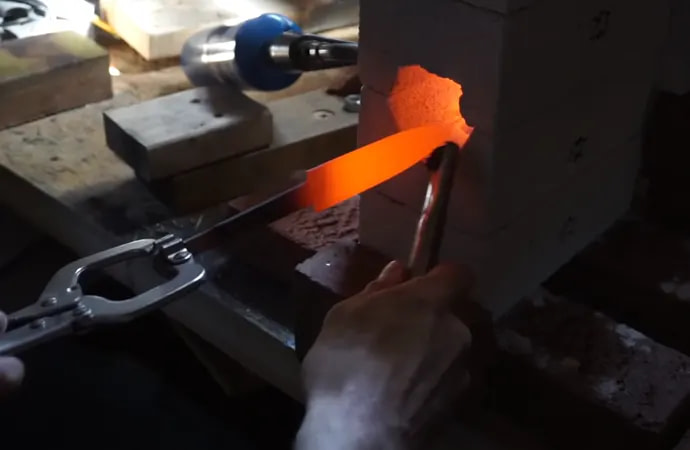 However, do not use a kitchen oven as it may raise some safety concerns. Instead, purchase a different oven and place it in your workstation or garage. I also suggest using a ceramic rack for placing your knife inside the oven. You can also wrap your blade with stainless steel foil to prevent damaging the blade quality.
Final Words
---
Knife making is one of the best hobbies to take. It could be done as a hobby or as a source of income. While it seems fun to make and design knives in different forms, styles, and designs, it is not an easy task to do.
Before performing any steps of making knives, you have to first make sure that you are dedicated to this craftsmanship and willing to take the challenge.
You will also need to know first all the necessary tools you will be needing. You have to decide which tools are good for you and which ones you don't prefer. Remember that your abilities and talents can result in much better outputs by using the right tools.
After deciding which tools you need, you can decide on purchasing them. Purchasing is a little tricky as it already has money involved. Hence, always remember to think multiple times before spending. Consider the types, advantages and disadvantages, durability, quality, and other factors you think are important for you.
The majority of the tools related to knife making are made of metal and some are even considered power tools. Therefore, always take into consideration your safety and get yourself educated before using any knife-making tools. Don't forget to include your safety gear when shopping for your knife-making tools as well.
You May Also Like