Is blacksmithing relevant today, and how can I get started? A large number of modern blacksmiths work in manufacturing industries like metal processing. A smaller number have workshops where they create beautiful custom metal works.
Getting started with blacksmithing is easy; you only need to enroll in a class. Vermont has a robust blacksmithing history that has carried into the modern day. The activity is generally popular around New England where several organizations offer lessons and workshops.
There are many excellent blacksmithing classes in Vermont to join if you reside within the state and want to learn the craft. I'll detail a few of them in the following section.
Top 7 Blacksmithing Classes In Vermont
---
Vermont has several blacksmithing courses for students of all skill levels. The top 7 classes I recommend are;
1. Blackthorn Forge
Location: 3821 US Route 2 Marshfield, VT 05658
Type: Blacksmithing
Time: 3 hours
Cost: $120
Instructors: Steven Bronstein
Telephone: (802) 426-3369
Number of participants: Small group
Restrictions: Students per class are few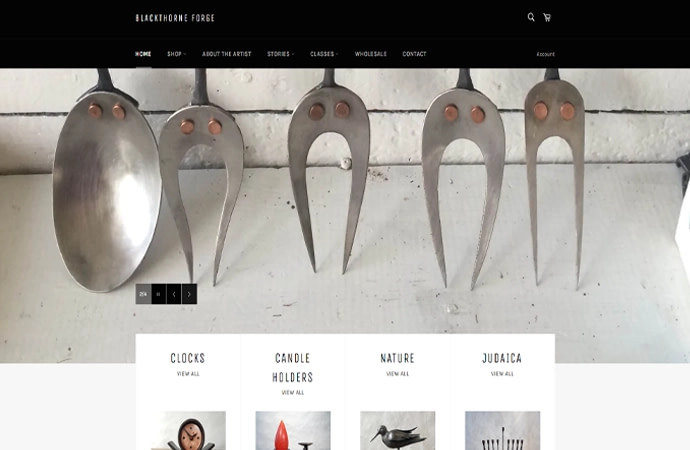 Steven Bronstein owns and directs the operations of Blackthorne Forge. The blacksmith has been creating high-quality crafts for about 40 years with help from his assistants. He fuses the use of traditional tools with modern tools to achieve the best quality.
Bronstein specializes in making candle holders, clocks, vases, sundials, and other home items. The pieces he makes portray a kind of rugged beauty due to the qualities of iron. Blackthorne Forge offers introductory blacksmith classes for novices and amateurs that you can book on their website.
Blackthorne Forge offers a full hands-on experience in class. They also allow students to take the forged item home after class.
The instructor offers lessons very well, allows students to experiment, and is always welcoming and friendly. // Classes In NYC //
Pros
Students can take home the pieces they make
Has classes for students regardless of skill level
Cons
The classes are often fully booked
2. HotAnvil Forge
Location: 6162 Route 17 Buel Gore, VT 05446
Type: Knife Making, Blacksmithing
Time: Weekends
Cost: Contact to inquire about price information
Instructors: Robert Bordeaux
Website:https://www.hotanvilforge.com/
Telephone: (802) 318-2706
Number of participants: Small group
Restrictions: Classes are mostly private
HotAnvil Forge offers a small and private class for knife makers and aspiring blacksmiths. Robert Bordeaux, the main instructor of HotAnvil's course, is passionate about the craft which he has practiced for over twenty years. He loves sharing his experience and skills with passionate students.
HotAnvil's classes focus on teaching the various techniques used in making knives. A typical class can last a day or a whole weekend depending on skill level and is customized for each student. If you're interested in enrolling, visit HotAnvil's website to see available courses.
They provide lessons in knife making over a short period. Classes are fun; the instructors are welcoming and attentive to each student. // Classes In New Jersey //
Pros
Students can forge a knife from start to finish within one weekend
Classes are customized to suit a student's skill level
Cons
The focus is mostly on knife-making techniques
3. Shelbourne Craft School
Location: 64 Harbor Road, Shelbourne, VT 05482
Type: Metalworking
Time: 4 hours
Cost: $285
Instructors: Jolynn Santiago
Website: https://shelburnecraftschool.org/
Telephone: (802) 985-3648
Number of participants: 6
Restrictions: Only accepts students who are over 16 years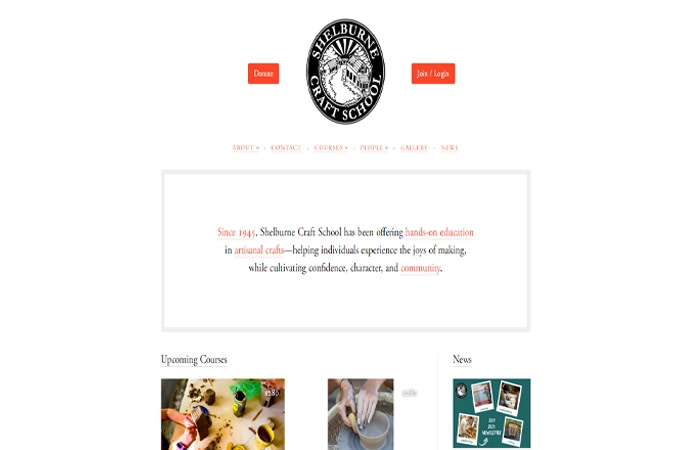 Shelbourne Craft School was established in 1945. It offers an environment that allows craftspeople and artisans to share knowledge and skills about working with metals, glass, wood, and clay. The school offers courses in metalworking as well as other arts like pottery and you can enroll online via its website.
The craft school offers lessons in metalworking.
Students say that Shelbourne's classes are great, with lots of space. The instructors are friendly and offer a lot of personalized attention to students. // Classes In Texas //
Pros
Well lit classrooms
The presence of many teachers means students get a lot of personalized attention
Cons
4. Old Stone House Museum And Historic Village
Location: 109 Old Stone House Rd. Brownington, VT 05890
Type: Blacksmithing
Time: 3 hours
Cost: $20 – $60
Instructors:
Telephone: (802) 754-2022
Number of participants: Small group
Restrictions: Open period is limited to half a day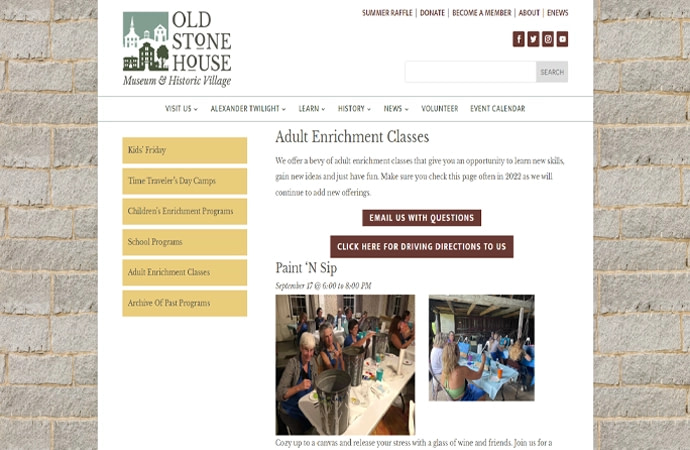 Old Stone House Museum & Historic Village was founded in 1925. It contains about 75,000 artifacts kept in 30 rooms. These artifacts are a reminder of the history of Northern Vermont.
The Museum offers enrichment classes for adults and children where they are taught crafts and other traditional skills. It also regularly updates its website with new classes that you can register for online.
They offer lessons in forge operation, hammer control, and metal heating.
The classes are fun since they allow students to learn from each other and the instructor. Instructors also give students ample time to experiment, but they step in to assist when needed. // Classes In California //
Pros
Instructors are always at hand to help students with their projects
There is space for students and amateur blacksmiths to practice their craft
Cons
The period is limited to half a day at a time
5. Lake Champlain Maritime Museum
Location: 4472 Basin Harbor Road, Vergennes, VT 05491
Type: Blacksmithing, casting, and bladesmithing
Time: According to the schedule
Cost: Contact for more information
Instructors: N/A
Telephone: (802) 475-2022
Number of participants: N/A
Restrictions: Metalworking classes are only open periodically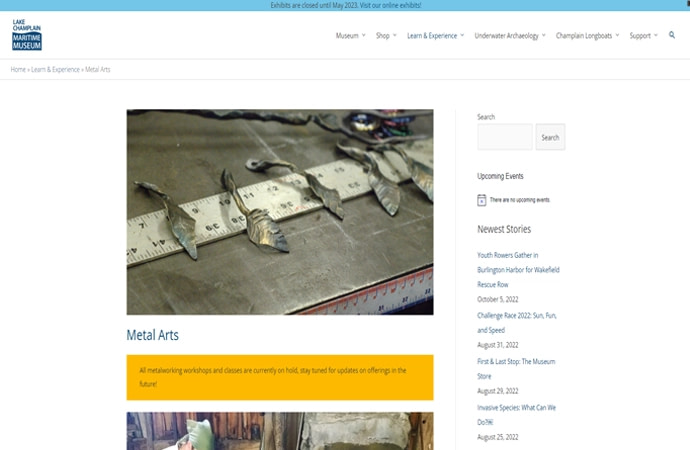 Lake Champlain Maritime Museum (LCMM) began blacksmithing while constructing a replica of the Philadelphia II gunboat in 1989. During the construction, finding the right materials for the replica proved difficult, so the team decided to do the ironwork. They built a large traditional forge on site and secured an anvil on a stump.
The museum has since grown to include blacksmithing instruction spaces and metalworking areas. The  Rhinehart Blacksmith Center and Metal Foundry are some instructional spaces that admit students. LCMM offers several classes and workshops that you can register for via their website.
Lessons provided in class include;
Introduction to blacksmithing
Bladesmithing
Casting
Classes are fun, with a lot of working space.
Pros
The museum has several metals arts instruction spaces
Lessons are offered to all students regardless of age or skill level
Cons
6. New England Blacksmiths
Location: Brentwood, NH
Type: Bladesmithing, Blacksmithing
Time: Full day
Cost: $30 for membership yearly and $20 for a day of learning
Instructors: N/A
Telephone: N/A
Number of participants: Small group
Restrictions: Only New England Blacksmiths members can access classes
New England Blacksmiths comprise artisans from the greater New England area. Members attend meetings, receive newsletters, and network with other blacksmiths. Meetings typically happen during fall and spring.
Instead of regular classes, new blacksmiths learn at meetings and workshops. The three-day meetings typically include demonstrations by professionals during which you can shadow them. You can find all the information about New England Blacksmith's upcoming classes and register for workshops on their webpage.
New England Blacksmiths offers lessons about steelworking, heating, and the tools used for blacksmithing. // Classes In Bay Area //
Students love the classes and have lots of fun learning from the teachers.
Pros
The membership allows you to meet with skilled blacksmiths during meetings and learn from them.
The classes are cheap since a full day costs only $20.
Cons
You must be a New England Blacksmiths member to access the classes.
7. Hammersmith Studio
Location: 901 Turnpike Street, Canto, MA 02021
Type: Blacksmithing
Time: 2 hours
Cost: $150
Instructors: N/A
Website: http://www.hammersmithstudio.com/
Telephone: (617) 969-5424
Number of participants: N/A
Restrictions: Class sizes are small, and only one class occurs at a given time.
Hammersmith Studios began in 1992. They provide hand-forged ornaments for builders, architects, and other private clients. The studio fuses traditional craftsmanship with modern innovation to create amazing, award-winning metalworks.
The studio offers short, one-day classes as well as long-term classes to individuals and groups. For information about class schedules and how to register, you can visit Hammersmith Studios's website or call their office.
Hammersmith Studios' classes provide lessons in forging and blacksmithing. Each class is tailored for individuals and is available for family and business groups.
Students say the classes are fun, detailed, and enjoyable. The tutors are amazing and encourage creativity, so it's a great learning environment. // Classes In Ohio //
Pros
Classes can either be one-day affairs or long-term engagements
The classes are tailored to suit each student's skill level and goals
Classes can cater to individuals as well as groups such as team-building groups
Cons
Hammersmith studio classes are expensive
Conclusion
---
If you're stationed in Vermont and want to make unique blades and metal ornaments, you should learn blacksmithing from any of the schools above. It could be a good hobby if you're trying to explore your creative side. To begin learning the craft, all you need to do is to enroll in beginner courses.
The classes you choose to attend will depend on your knowledge level, budget, and area of residence. In this article, I've presented seven blacksmithing classes in Vermont that can be the stepping stone to your blacksmithing career.