If you've gotten into knifemaking recently or want to upgrade your knife-making tools and skills, a belt grinder is a must-have. A belt grinder is a type of power equipment used for grinding down metal surfaces. It allows knifemakers to shape blades and grind bevels according to their liking. It can be used by both knife hobbyists and professionals.
Every knife maker knows that using the best belt grinder for knife making has its perks. A good quality belt grinder can help you make knives faster and more accurately. It can also help you develop better knife-making techniques in the long run. Furthermore, it is safer to use and long-lasting so you get more value for your money.
Shopping for a perfect belt grinder for knife making can be a challenging task. Not all belt grinders are made equal. You have to consider many factors like motor, material, belt size, and more. There are also many options to choose from nowadays.
To help you find out the perfect one for you, we've tested and rounded up the most promising belt grinders on the current market. We also included a belt grinder buying guide so you can choose the best pick. 
Our Top 10 Best Belt Grinders For Knife Making
---
01. RIKON 50-151 Belt Grinder with 5″ Disc Sander
Why It Stands Out to Us
This belt grinder uses a 1″ x 30″ belt which works well for knife sharpening and detailing. Although it is not wide enough for flattening off large knives' materials and has a less abrasive area, they are still great affordable investments for knife finishing.
RIKON Power has a solid build and the screws are threaded in metal making it very sturdy and dependable. It is easy to use and powerful enough for grinding or polishing wood and aluminum easily.
It also features separate dust collection systems that can be connected to a vacuum cleaner. Overall, it's a good product for its price range.
Our Experience With It
Using this grinder was very easy and had less vibration compared to other grinders in this price range.
The dust collection system is an excellent feature for keeping the work area clean.
What We Didn't Like
It takes some work to change belts. Instead of a latch or screw, we had to undo three screws with a screwdriver.
Who Is It Great For
This grinder is best for people who are just beginning their knife-making journey and want to start with the most basic and affordable belt sanders.
SPECIFICATIONS
Dimension (L x W x H): 15″ x 12.63″ x 14.63″
Disc sander: 5″
Belt: 1″ x 30″
Belt speed: 1900 SFPM
Motor: 1/3 HP
Weight 18 lbs.
Pros:
Sturdy build
Dust collection system
Budget-friendly
Cons
Replacing the belts could be a difficult task
02. Palmgren 2″ x 42″ Belt Grinder
Why It Stands Out To Us
This Palmgren belt grinder offers more stability compared to lower-sized belts. The 2″ x 42″ belt offers a good surface area for beginners in knife making. The 6″ disc is also suitable for smaller knife-making jobs such as beveling knife handle scales.
It can also be used for sanding, polishing, contouring, and deburring various materials including metal and wood.
The Palmgren belt grinder has a heavy-duty capacity motor so you can work smoothly. Its belt and disc come with a tilting table that can be tilted so you can operate them in different positions. It also has a dust collection port to keep your working area neat.
Our Experience With It
This belt grinder is surprisingly user-friendly and we didn't have any difficulty using it for different knife-making jobs.
We also liked the tilt function of the working table. It made knife-making more convenient for us.
What We Didn't Like
The belt alignment is not that impressive and the belt tended to slide off as we used the belt grinder for a longer time.
Who Is It Great For?
This belt grinder is perfect for all beginner knife makers who want a larger surface area.
SPECIFICATIONS
Dimensions (L x W x H) : 11″ x 20.5″ x 22.25″
Disc sander: 6″
Belt: 2″ x 42″
Belt speed: 4400 SFPM
Motor: 1/3 HP
Weight: 35 lbs.
Pros
Stable usage
User-friendly
Has a work table with a tilt function
Features a dust collection port
Budget-friendly
Cons
Challenging belt alignment
Also READ: Top 7 Best Anvils for Blacksmithing (Reviews and Buying Guide)
03. Bucktool 2″ x 42″ Belt Grinder, Upgraded model
Why It Stands Out To us
The Bucktool Combo belt grinder claims to meet Canadian Standards Association (CSA) standards which are the standards for electrical appliances, machinery, and other equipment in Canada. This multifunction sander uses a 2″ x 42″ belt that is suitable for beginner knife makers. It can be used for almost all sanding and finishing needs for most materials for knife making.
The belt features a swivel mechanism and can tilt from vertical to horizontal. This function allows you to have multiple ways of using the machine or changing the belt.
Bucktool Combo also features a quick-release tension and tracking system so you can easily change the belts whenever you have to. It is also equipped with a cast iron table for better support in sharpening metal.
Our Experience With It
Despite having a small motor with 1/3 HP, this belt grinder was able to perform smoothly for both high and low speeds.
We especially liked the cast iron table which gave more support for shaping and sharpening.
The adjustable belt angle of 0-90 degrees made belt changing a lot easier and faster.
What We Didn't Like
We pretty much liked the overall quality and performance of this belt grinder. However, we think that the price could be too high for beginners.
Who Is It Great For?
This belt grinder is great for beginners who want to learn basic grinding procedures and develop grinding techniques.
SPECIFICATIONS
Dimensions (L x W x H): 24.7″ x 19.6″ x 11.8″
Disc sander: 6″
Belt: 2″ x 42″
Belt speed: 4480 FPM
Motor: 1/3 HP
Weight: 39.1 lbs.
Pros
Has both a grinder and a sander belt
Equipped with a cast iron table for more support
Beginner-friendly
Features 0 to 90 degrees belt tilt function
Allows fast-changing of the belt
Cons
Its price might be a little over the budget for beginners
04. Shop Fox W1834 Knife Belt Sander / Buffer
Why It Stands Out To Us
The Shop Fox W1834 is the best 2×72 belt grinder for knife making in its price range. It features a 10″ rubber-faced drive wheel and an all-ball-bearing construction. It is easy to set up and has an adjustable tool holder for stability.
The sanding arm can also be tilted to a horizontal position for more convenience. It is equipped with an adjustable tool rest for more efficiency as well. Its overall build is dependable and highly suitable for grinding metals and wood for knife making.
Our Experience With It
We were able to use the machine for all necessary processes of knife making. That includes deburring, beveling, and sharpening.
Despite having low HP for a 2×72 belt grinder, it was able to run smoothly and without delay.
What We Didn't Like
It is not as efficient as other 2×72 belt grinders and the motor is relatively weak, however, this is understandable given its price.
Who Is It Great For?
This is great for hobbyist knife makers who are trying to upgrade their skills and learn more knife-making strategies.
SPECIFICATIONS
Dimensions (L x W x H): 29.5″ x 39″ x39″
Disc Sander: 10″:
Belt: 2″ x 72″
Belt Speed: 4500 FPM
Motor: 1 HP
Weight: 59 lbs.
Pros
Good performance for its price
All-ball bearing construction
Easy setup
Has a sanding arm with a tilt function
Adjustable tool rest
Cons
Relatively weak motor for a 2″ x72″ belt grinder
05. Grizzly G1015 – Knife Grinder, Sander, and Buffer
Why It Stands Out To Us
The Grizzly G1015 is a versatile belt grinder that can be used in almost all metal tools like knives, scissors, and more. The belt drive wheel is 8″ which is good to use for beginners who are trying to learn knife-making methods seriously.
The belt can be tilted from a vertical to a horizontal position so you can work according to your preference and need.
The belt can be changed easily through its quick-release belt mechanism. It also has a cast-iron frame body making it sturdy and long-lasting.
Our Experience With It
Using this belt grinder was easy and didn't cause any disturbing vibrations.
We especially liked the build quality of this product and its quick-release mechanism.
What We Didn't Like
We thought that its price is a little too high for its specs and functionality.
Who Is It Great For?
This belt grinder is best for knife hobbyists who want to upgrade from their 1″ x 30″ grinders or 1″ x42″ belt grinders. It allows every newbie knifemaker to experience a more efficient knife-making process without overwhelming them with so much power.
SPECIFICATIONS
Dimensions (L x W x H): 30.5″ x 16.25″ x 15″
Disc Sander: 8″
Belt: 2″ x 72″
Belt speed: 3600 FPM
Motor: 1 HP
Weight: 59.9 lbs.
Pros
Multi-functional
Beginner-friendly
Quick-release mechanism for removing the belt
Stable build quality
Cons
A little pricey for its build quality
06. Happybuy 2 HP Belt Grinder Variable Speed
Why It Stands Out To Us
The Happybuy 2 HP belt features a non-slip design for the abrasive belt and a high-speed copper motor for a faster and more efficient knife-making process. This motor makes tracking more stable and convenient. It is made with durable steel making it steady, long-lasting, and easy to maintain.
It is equipped with a variable speed mechanism with a frequency converter. Adjusting and changing the belt is also easy because of its adjustment handle. It works well with a wide variety of materials like wood, acrylic, metal, plastic, and others.
Our Experience With It
This belt grinder didn't disappoint us. It was able to run smoothly all throughout our tests.
Changing the belt was also easy and only took seconds.
Its motor was able to live up to our expectations. It was strong and delivered fast grinding speed.
What We Didn't Like
We didn't have any difficulty or concerns when we tested the product. However, a quick scope at the reviews shows that some buyers experienced electrical issues with this product.
Who Is It Great For?
This belt grinder is great for knife makers who are aspiring to shift from being a hobbyist to professional knifemakers.
SPECIFICATIONS
Dimensions (L x w x H): 35″ x 13″ x 20″
Disc sander: 12″
Belt: 2″ x 82″
Speed: 2800 rpm
Motor: 2 HP
Weight: 190.6 lbs.
Pros
Non-slip design for the abrasive belt
Powerful motor
Stable tracking
Made with durable steel
Has a variable speed function
Easy belt changing
Cons
There is a risk of electrical issues
07. TECHTONGDA Belt Sander/Grinder
Why It Stands Out To Us
This TECHTONGDA belt grinder comes with a full range knife making accessories for making knives, blades, scissors, and other tools. It features a 1500W copper wire motor that provides sufficient power for making knives in a relatively short period of time.
The Techtongda belt sander uses inverter speed regulation to easily adjust the grinder speed depending on your needs. It is ideal for flat grinding, arc grinding, and concave grinding. It has a stable base, and an adjustable table for convenience as well. Its polished look also makes this machine stand out.
Our Experience With It
Its powerful motor was impressive. This machine was able to supply the power we needed in making different sizes of knives.
We especially liked that it is capable of flat, arc, and concave grinding for metals.
What We Didn't Like
Unfortunately, this product is difficult to find and purchase. some online shops offer them but have limited stocks.
Who Is It Great For?
This belt grinder is a good option for any knife-making hobbyist who wants to shift to professional knife-making.
SPECIFICATIONS
Belt: 2 " x 72″
Speed: 2800 rpm
Motor: 2 HP
Weight: 175 lbs.
Pros
Powerful motor
Comes with a full range knife making accessories
Adjustable speed
Stable build
Adjustable table
Cons
It could be difficult to purchase this product as most online stores have it in limited stock.
What To Know Before Purchasing The Perfect Belt Grinder?
---
1. Motor Size
The motor is responsible for the power input of the belt grinder. Essentially, the higher horsepower (HP) a motor can supply, the more powerful the belt grinder is. A more powerful grinder can grind and sharpen metals easier and faster.
Your belt grinder motor should also be suitable for your grinder's belt size. When a motor with high HP is paired with a short belt size, it may result in too much power and speed. On the other hand, using a motor with low HP for long belt sizes may result in low speeds and ineffective performance.
Remember that 1 HP is needed for every 1″ of belt width for a 72″ long belt.
For instance, a grinder with a 1″ x 72″ belt will have to use a 1 HP motor while a 2″ x 72″ belt will have to use a motor with 2 HP. When the belt length is shorter than 72″, you will also have to adjust the motor power.
2. Belt Size
The belt sizes are important because they play a role in the efficiency and speed of your knife-making process. A higher belt size provides more surface area for grinding larger areas of knives. On the other hand, lower belt sizes are more suitable for precision and detail.
When choosing the belt size for the belt grinder for you, you have to take into account the kinds and sizes of the materials you want to grind.
There are six common belt sizes that you can purchase from the hardware store. Find out their advantages, disadvantages, and suitability for knife making in the information below.
This belt size is considered the industry standard making it the most common belt size in the market. It can be used for both small and large knives.
Its 72″ length prevents wear and overheating so you can use it all throughout the development process of your knife.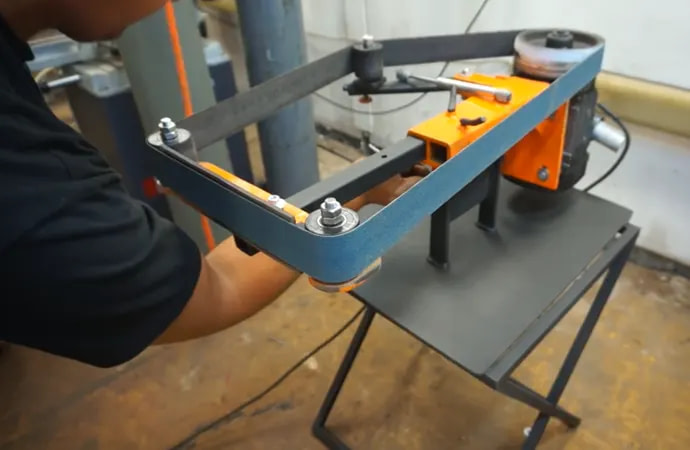 Its 2″ width can sharpen a larger area of the blade at a time making the knife-making process fast and efficient.
This belt size is the thinnest and shortest. It is best for small knives and works well for sharpening and detailing. Its dimensions provide a less abrasive surface that results in fast heat buildup.
Because of this, the belt will have to be replaced from time to time during the knife-making process. The motor used for this belt size is also weak making it difficult to grind thicker materials.
In terms of performance and strength, the 1″ x 42″ grinder belts are closely related to 1″ x 30″ belts. They are also good for sharpening and detailing.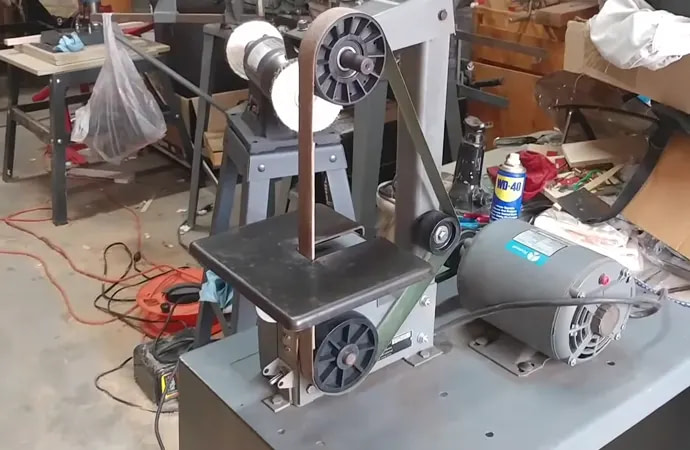 The only advantage of a 1″ by 42″ belt is its longer surface area for grinding the larger surface of the blade faster.
This belt size is most suitable for woodworking. However, they can still perform fairly well for knife making.
It is the most popular belt size for many beginner knife hobbyists. This is because it can provide more stability compared to lower sized-belts but doesn't give out an overwhelming power.
This grinder belt size is a go-to choice for both knife professionals and hobbyists. It has a relatively powerful motor to make the knife-making process faster and more efficient.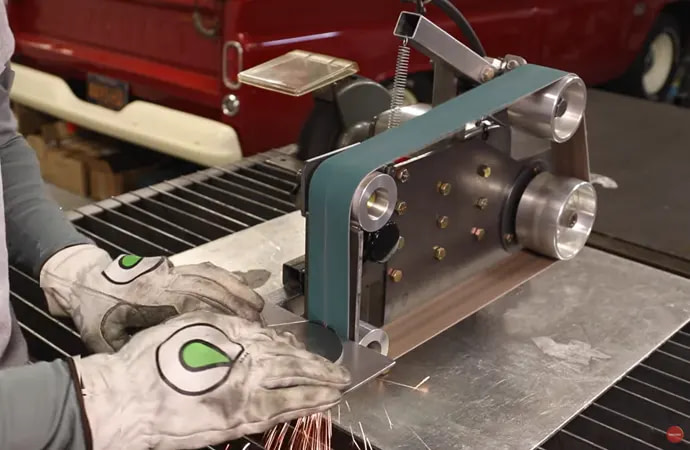 It is also compact so you can easily find a spot for it in your work area.
While this belt size is very common in many hardware stores, we advise you to not opt for them. Unlike, the 2″ x 42″ belts, the 4″ x 36″ are just for woodworking and are not advisable for knife making. This is because the built structure doesn't allow the usage of the belt edge.
Its motor also becomes weak because of the belt dimensions. If the motor is weak, the grinding performance is also slow. Slow grinding performance is not advisable for metals.
3. Belt Speed
The belt speed is an essential feature of a belt grinder. The belt speed of a belt grinder for knife making should be faster than the belt speed of a woodworking belt grinder. Making sure that the belt speed is appropriate will surely make your knife-making journey more productive and easier.
The belt speed is measured in surface feet per minute or sfpm. You can calculate this by the formula below:
sfpm = ( Pi x drive wheel diameter) x motor rpm.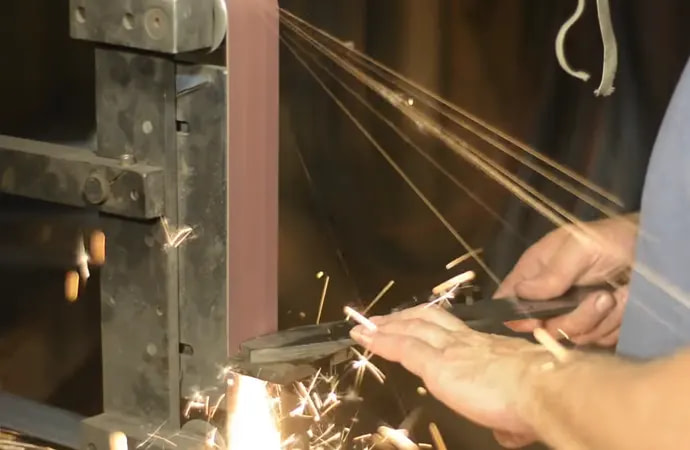 The appropriate belt speed for knife-making belt grinders is between 4,100 to 7,000 depending on the metal type.
Belt grinders usually come in two types of speeds namely:
The variable speed feature lets you do heavy steel hogging at full speed while performing sanding at lower speeds. It is not a necessary speed feature for belt grinders but it can surely give you an advantage.
Contrary to variable speed, fixed speed only runs at a constant speed.
4. Type of Grinders
The type of grinder should also be considered. All grinder types share the same function of cutting, grinding, finishing, and sharpening materials like metal. However, they still possess various differences that are worth knowing to make a more objective decision. Remember to choose a belt grinder type that is appropriate for your ability, need, and space.
Below we go through the different types of grinders in more detail.
A stationary grinder is not intended to be moved all around your working area. It is usually placed in a specific area of your work area. Oftentimes, it can only be used as a grinder but can also be used as a sander with modifications or adapters.
A bench grinder also called a pedestal grinder, is a type of grinding machine that is placed or attached to a table or bench. It can be raised to the preferred working height and is equipped with two grinding wheels that are usually of different sizes.
Modern bench belt grinders now have a belt sander feature and are delivered with sanding belts. For other models, you may have to turn it into a belt sander by using an adapter that allows you to attach the belt sander to the bench grinder.
From its name, a handheld grinder is used by holding and operating it by hand. It is highly portable and can be used in different places. They can be corded or battery-powered.
Handheld grinders are also multifunctional and can be used as a sander. To use it as a sander, you can simply replace its disc with a disc made for sanding
A multi-purpose grinder has a belt sander and a belt grinder. Usually, they are more expensive than other grinders.
5. Material Quality
The material quality of your tools and equipment is important because it can influence their performance and longevity. Investing in equipment made with quality materials is always a wise thing to do and can also save you money in the long run.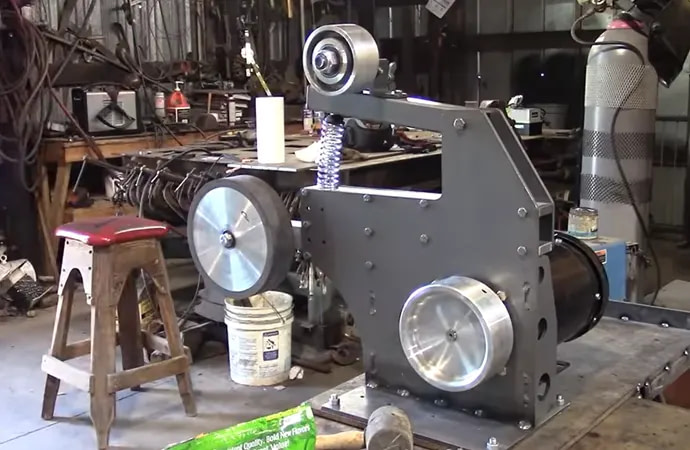 Always opt for a grinder that is made with durable high-grade aluminum such as anodized aluminum. Some grinder models are made with medical-grade steel teeth. This material is also a good one because it is durable and long-lasting.
6. Contact Point
The contact point is part of the belt grinder that looks similar to a dish or plate, This is where you will place your knife. It is responsible for preventing your knife from hanging from the side so it's important to consider this when shopping for a belt grinder.