So you want to learn how to make your own swords and other tools? I know it can be hard to break into the world of blacksmithing, but that's why I'm here—to make your life a little easier. If you've got a passion for metal and an eye for detail, you should take this course.
Blacksmithing is a hobby that's been around since 1350 BC. It's one of the oldest trades in existence, and it's still going strong today.
Whether you're looking to learn the ancient art of forging iron into blades or just want to make your own horseshoe nails, there are tons of blacksmithing classes in NYC.
Top 7 Blacksmithing Classes In NYC
---
Here are our favorite seven blacksmithing classes in New York City:
1. Nazz Forge
Location: 52 34th Street Building #6, 1ST Floor 1- BSE Brooklyn, NY 11232
Type: Blacksmith Basics—Bottle Opener
Time: 2 hours
Cost: $100
Instructors: Justin Kirck or Devon James
Website: www.nazzforge.com
Telephone: 848 222 2996
Number of participants: Not specified
Restrictions: 14+ years old, Respiratory masks, and COVID-19 vaccination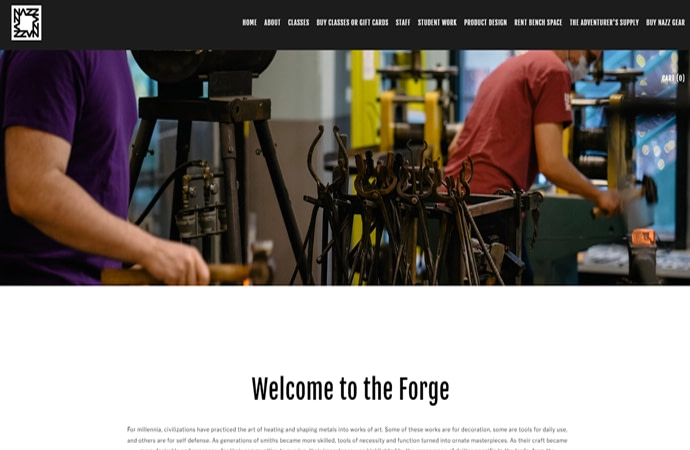 I am not going to lie: I love Nazz Forge.
It's one of the best schools for blacksmithing in New York City. It's a college that offers a wide range of classes—from basic to advanced.
Nazz Forge was founded by Theo Nazz, who is still on faculty at the school today. He started teaching there in 2016 and has been an educator ever since. In 2017 he won two back-to-back championships on the History Channel reality show Forged in Fire.
All the alumni I have interacted with pointed out that Nazz Forge is an excellent choice for blacksmithing classes in NYC. The instructors are friendly and knowledgeable, and the classes are well-paced.
Pros
Expert instructors
Flexible teaching time
Modern-standard school
Cons
Pricey— $100 for just 2 hours
2. She-weld
Location: 27 Coffey St, Brooklyn, NY 11231, United States
Type: Knife Making
Time: 7 hours
Cost: $295
Instructors: Marsha Trattner
Website: www.she-weld.com
Telephone: +1 (347) 620-8556
Number of participants: Not Specified
Restrictions: 14+ years old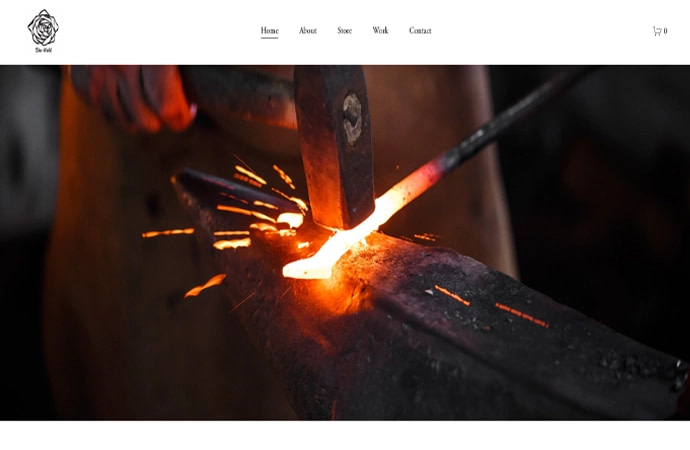 Marsha Trattner founded She-Weld, a woman-owned blacksmithing school in Brooklyn that has been around for over a decade. After 2012 Hurricane Sandy damaged their previous location, they moved to a new location in New York.
The school offers a range of classes, including basic metalworking and jewelry making. She-Weld's focus is on learning how to create beautiful pieces of jewelry. It also helps students in developing an appreciation of artistry and design. // Classes In New Jersey //
Students say that the classes are fun and engaging, and they leave inspired by what they've learned. One student called it "the best way to learn a new skill."
Pros
One-on-one teaching
No previous experience required
Safety and metalworking equipment is available
Cons
3. Brandr Forge
Location: 3208 Farragut Road, Brooklyn NY
Type: Basic blacksmithing
Time: 2 hours
Cost: $275
Instructors: Charlie and Rachel
Website: www.brandrforge.com
Telephone: 917-833-9615
Number of participants: 2
Restrictions: 2 participants or four family members per class
Founded by Charlie and Rachel, a couple, Brandr means fire and sword blade. The school deals with functional and reproduction ironwork using the Norse style.
The school offers both classes for beginners as well as advanced students who want to take their skills to the next level. Students can make J rings by the end of this class.
Students say that Brandr's instructors are incredibly knowledgeable about their craft. They're able to pass on their knowledge with ease. // Classes In Texas //
Pros
Relatively cheap
Classes have fewer people
Available throughout the week
Cons
4. Rochester Arc + Flame Center
Location:125 FedEx Way, Rochester, NY 14624
Type: 2 nights workshop
Time: 2 sessions
Cost: $180
Instructors: Jon Kelley
Website: www.rocafc.com
Telephone: 585-349-7110
Number of participants:10
Restrictions: No open shoes or skirts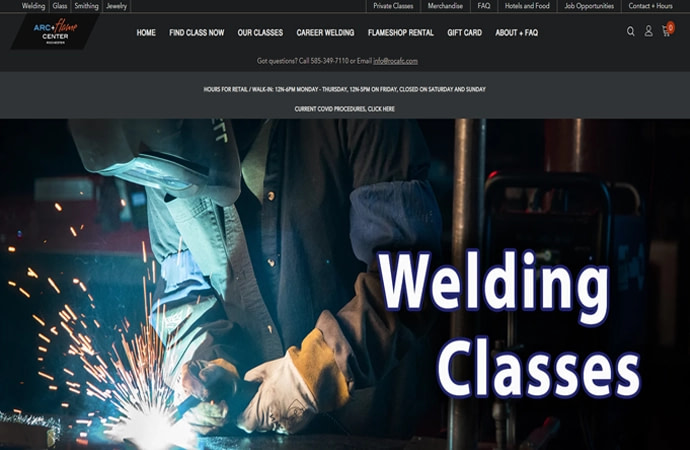 Founded in 2012 by Michael Krupnicki, this school has been teaching students how to become blacksmiths for over a decade.
This school will teach you skills such as bending, straightening, upsetting, twisting, punching, cutting, and joinery. They also offer classes on hammer control and how to use different hammers for different purposes.
Students say it's an incredible place to learn how to make your own tools. The teachers are friendly and answer all your questions // Classes In California //
Pros
Affordable
Flexible classes
You can take practice samples at home
Cons
Students under 16 years undergo evaluation
5. MakerSpace NYC
Location: Brooklyn Army Terminal, 140 58th St Building B Unit 1C, Brooklyn, NY 11220
Type: Basic Use and Safety
Time: 1 hour
Cost: $75
Instructors: DB Lampman
Website: www.makerspace.nyc
Telephone: 718-273-3951
Number of participants: Not specified
Restrictions: 18+ years old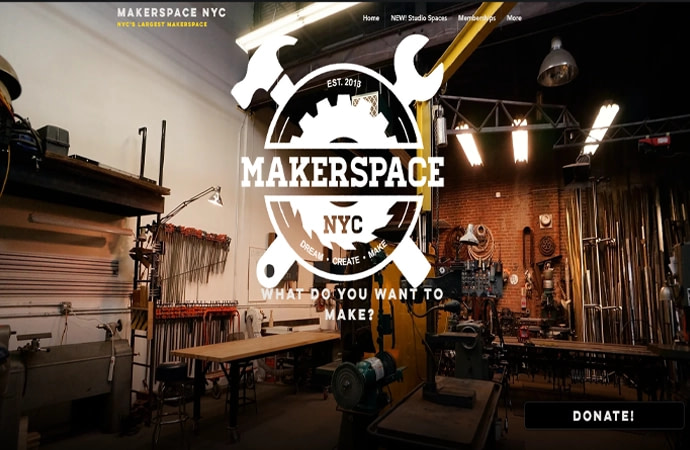 MakerSpace NYC, founded by DB Lampman and Scott Van Campen in 2013, has the best NYC blacksmithing classes. The school teaches welding, woodworking, metal cutting, sandblasting, and much more.
In this non-profit school, you work with various metals, including steel, aluminum, copper, and brass. The coursework covers all aspects of blacksmithing, including heat treating, forging, metal cutting, and finishing techniques.
I suggest you take a class at this school as it has a lot of positive reviews. Students say instructors are "laid back" and "very friendly." // Classes In Vermont //
Pros
Affordable
Member discounts
Kids-specific courses available
Cons
The 1-hour session might not be enough
6. Adirondack Folk School
Location:51 Main Street, Lake Luzerne, NY 12846
Type: A test of the Forge
Time: 3 weekday evenings
Cost: $190
Instructors: Steve Gutzler
Website: https://adirondackfolkschool.org
Telephone: 518-696-2400
Number of participants: Not Specified
Restrictions: No open shoes or short pants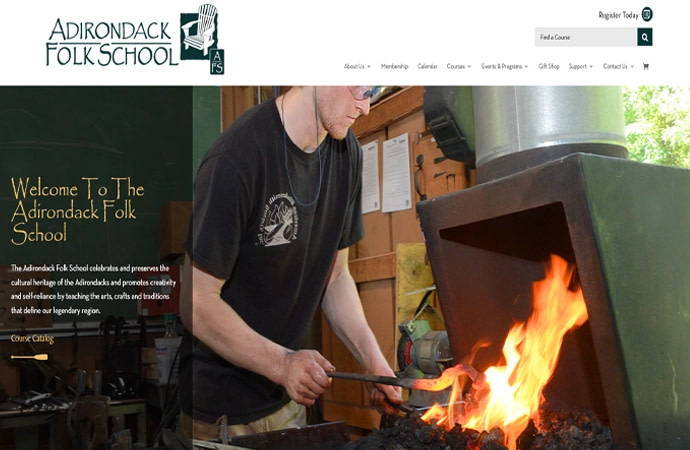 The Adirondack Folk School is one of the most popular schools in New York City for blacksmithing. Jim Mandle founded the school in 2010 and has since become a non-profit organization.
The fee includes all the materials you will need to take classes at the school. You will be given an anvil, hammer, leather apron, gloves, and glasses. By the end of the course, you should have built your forgery skills to an advanced level. // Classes In Bay Area //
Students say that this school is fantastic because it offers a variety of courses with different levels of difficulty. No matter your skill level, there's something for you here!
Pros
Member discounts
Follows Blacksmiths Association of North America Curriculum
Knowledgeable instructors
Cons
7. Salem Art Works
Location:19 Cary Lane, Salem, NY 12865
Type: Introduction to Blacksmith
Time: 3 weeks (2 hours per session)
Cost: $140
Instructors: Anthony Cafritz
Website: www.salemartworks.org
Telephone: +1.518.854.7674
Number of participants: 6
Restrictions:  Closed shoes, hair must be tied, long pants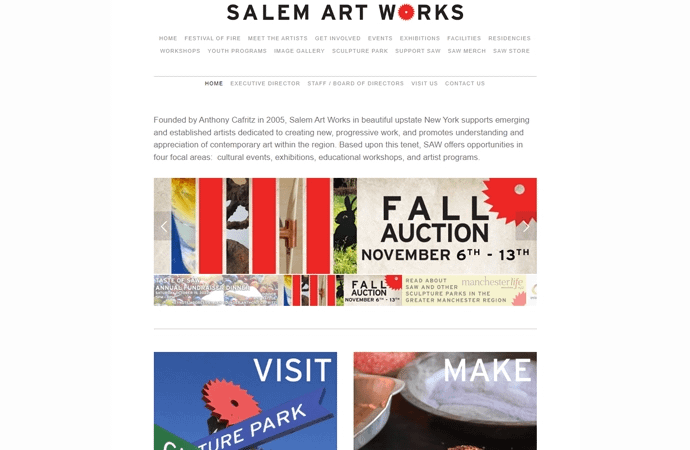 If you're looking for an intense educational experience, I suggest you join Salem Art Works.
Founded by Anthony Cafritz in 2005, the school offers a variety of classes on blacksmithing and metalworking. Their coursework includes managing a coal forge fire and using a hammer and anvils. You will also learn hot cutting, tapering, drawing, bending, upsetting, and curling techniques.
Students who enroll in this program say they learned a lot about the craft of blacksmithing and how to use tools properly. They also said that being able to sharpen your own tools was a great experience.
Pros
Affordable
Rigorous training for three weeks
All materials are included in the fees
Cons
Deposits are non-refundable
Conclusion
---
If you're interested in a career as a blacksmith, there are many classes to choose from. But I think these seven classes are the best! Our top pick is Nazz Forge. It's taught by an award-winning instructor.
The class will teach you various techniques, including hammer handling and forging. The class is also very hands-on, so you'll get to practice your skills right away.
All the other classes on our list are great ways to learn about blacksmithing, its history, and tradition. The experience in these classes is exceptional and something everyone should try at least once in their lives.