Ohio State is uniquely known as an industrial state at the center of steel manufacturing and production since the early 1800s. Blacksmithing has thrived tremendously with a large workforce and readily available steel and iron in Ohio.
By the 19th century, Ohio had grown in blacksmithing work, large and small, with families passing the art and craft through generations. Ohio is the best place to do blacksmithing classes for anyone planning to learn this art.
This article gives more details about blacksmithing classes in Ohio, their areas of preference along with the pros and cons of these classes.
Top 7 Blacksmithing Classes in Ohio
---
Here is a summary of the best blacksmithing classes in Ohio in 2023. Read through the highlighted features if you don't want to read the whole thing.
1. Central Ohio School Of Metalwork
Location: 1376 River St. Columbus, OH 43222
Type: Blacksmithing and Bladesmithing
Time: Multiple-week courses with evening workshops
Cost: $25-$1400
Instructors: Adlai Stein and Bekah Saikas
Website: https://www.cosommetalwork.com/
Telephone: (614) 370-6228
Number of participants: Group classes
Restrictions: groups restricted to 10 students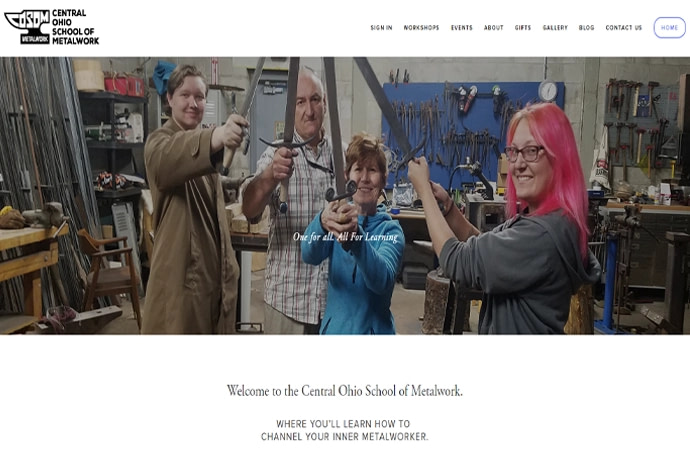 Central Ohio School of Metalwork (COSoM) is a blacksmithing and bladesmithing school owned and managed by Bekah Saikas and Adlai Stein. COSoM operates to forge the future in a fun and enjoyable environment.
They offer classes in Blacksmithing, Bladesmithing, Railroad Spike Knife Making, and 10 Week Sword workshops. Classes are offered in small groups, in private lessons, and in evening workshops.
A detailed workshop and class for the 2022 schedule are listed on the COSoM official website. Considering learning the art and craft of blacksmithing? Consider COSoM in Ohio as your first choice.
Pros
Classes are enjoyable to attend
Friendly instructors
Hands-on skills
There is a chance for private lessons
Workshops are scheduled in the evening to suit all students
Relatively cheap
Cons
A lot of noise from the blacksmithing activities
2. Lockhart ironworks blacksmithing class
Location: 4515 Township road 430 Logan, OH 43138
Type: Blacksmithing and hand-forged cookware
Time: 8 hours of beginner classes and then scheduled intermediary classes
Cost: $100-$300
Instructors: Doug, Danielle, and David
Website:linktr.ee/Lockhartironworks
Telephone: (740) 380-6816
Number of participants: classes consist of 14 students
Restrictions: Not for students below 12 years of age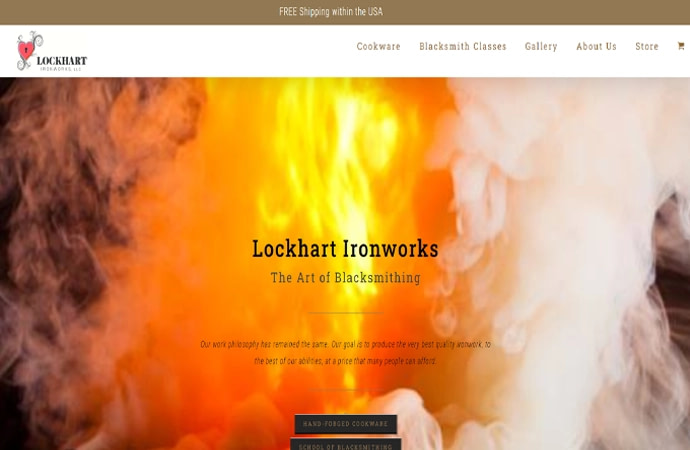 Lockhart ironworks is a family blacksmithing shop in the southern Ohio Hocking Hills region. It is owned and managed by Doug Lockhart and his family. The family is well known for their outstanding accolades and recognitions in the US government such as the then president Bill Clinton.
They offer several classes for theory and several practical workshop classes. David, and Daniel help in training the students through the hand forgery of items. Classes include making of blacksmiths tongs, utensils set, nail header, spike knife, tripod, and poker. // Classes In California //
The experience is of high quality and anyone around the Hocking hills in Southern Ohio state should consider enrolling in blacksmithing classes with the Lockharts family.
Pros
Classes are worth your time
Affordable classes
Classes are divided into beginners and intermediaries
The experience is enjoyable, safe, and educational
They offer evening open forges workshops
Cons
Long beginners classes taking 8 hours a day
3. ArtsConnect Springfield Township
Location: 9158 Winton Road Building A Cincinnati, Ohio 45231
Type: Blacksmithing, Custom Chef Knife, and Tomahawk Hatchet Workshop
Time: 2-4 sessions a week (3 hrs./session)
Cost: $90-$180 (lower fees for ArtsConnect members)
Instructors: Joshua Fisher
Telephone: (513) 522-2108
Number of participants: small groups and private sessions
Restrictions: No cash payments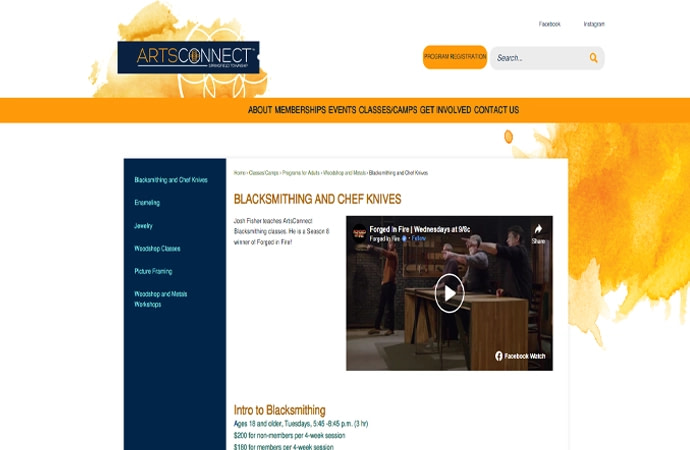 ArtsConnect is a non-profitable organization that provides public art events, significant camps, and blacksmithing classes in the Ohio Springfield Township area.
The classes are composed of blacksmithing and bladesmithing sessions offered in the evening for convenience. Other courses offered include custom chef knife and Tomahawk Hatchet workshop.
Through Joshua Fisher, the instructor, learners get the skills and art to forge a knife to completion. I would recommend ArtsConnect to anyone willing to learn the blacksmithing and bladesmithing classes in Ohio.
Pros
Affordable classes.
Private classes are available.
First-hand experience with the smithing tools.
Evening classes favor learners with busy day schedules.
Lower fees for ArtsConnect students.
Cons
Extended sessions (at least 3 hours)
4. Jason Nass Blacksmith Class
Location: 6709 Hope Ave. Cleveland, Ohio 44102
Type: Blacksmithing
Time: Single or multi-day class schedules.
Cost: $50-$175
Instructors: Jason Nass and Rowan Canterbury
Email: info@hammerandthistle.com
Telephone: (216) 609-9250 (Jason), (216) 703-4270 (Rowan)
Number of participants: small group classes and individual private sessions
Restrictions: 2 private students per class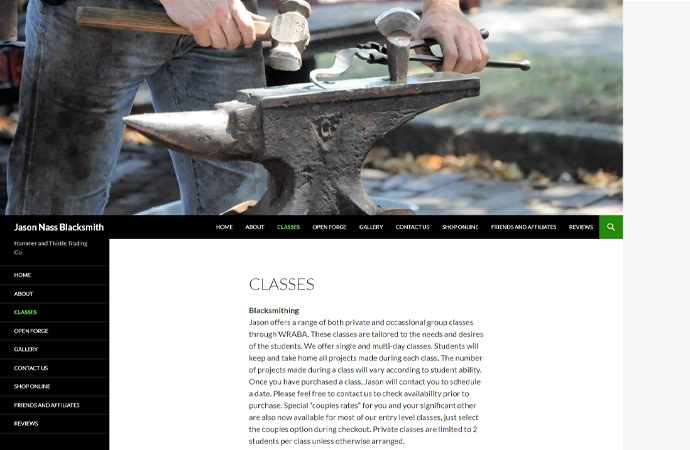 The Jason Nass Blacksmith class is owned and operated by Jason and his friend Rowan in Cleveland, Ohio. The dual has a blacksmithing experience of over a decade.
They offer single multi-day classes and are guided by the student's needs and abilities. Jason also holds an open forge every Monday evening from 5 pm to 9 pm to allow members to socialize as they practice hands-on with the tools.
It is one of the best blacksmithing classes in Ohio in 2022, offering more reliable and quality training. If you are planning to equip yourself with the necessary blacksmithing skills, book a session with Jason and learn more. // Classes In Texas //
Pros
Enjoyable classes.
They provide evening open forges.
Training is based on one's ability and speed.
Members get to interact during open forums and camps.
Cons
Limited access to private classes.
Relatively expensive for non-members.
5. Blue Hell Studio Blacksmithing and Steel Fabrication Classes
Location: 7712 Reinhold Dr. Suite 1, Cincinnati, Ohio 45237
Type: Blacksmithing and steel fabrication
Time: 6 pm-9 pm (Mon-Thur) and 9 am-9 pm on Saturday
Cost: $450 per session
Instructors: Christopher Daniel
Email: chris@bluehellstudio.com
Telephone: 513.490.3723
Number of participants: 10 students with a minimum enrollment of 3
Restrictions: Must be 16 years old to enroll – No money refunds once classes begin.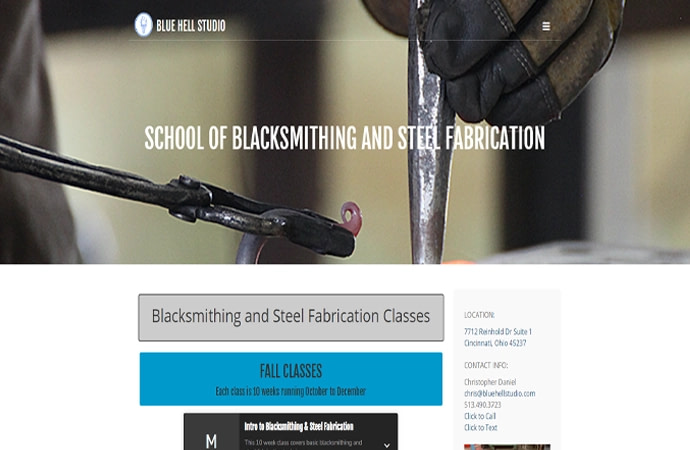 Blue Hell Studio is a blacksmithing and steel fabrication school owned and managed by Chris Daniel, located at 7712 Reinhold Dr Suite 1, Cincinnati, Ohio.
They offer an introduction to blacksmithing and steel fabrication and knife making. The Ohio blacksmithing classes entail a 10-week session for evening programs from Monday to Thursday and 3 Saturday sessions from 9 am-9 pm. // Classes In New Jersey //
Upon completion, one can enroll in open studios via appointment; the same for private classes that are offered for 3 hours via selection. Check their official website for class bookings and further guidelines.
Pros
Offers high-quality sessions.
Evening weekday sessions allow time for learners with busy day schedules.
Safety is vital while in the workshops.
Provides for private sessions.
Offers gift certificates upon completing the sessions.
Cons
Classes are limited to 10 students, with a minimum of 3 students.
It is expensive.
6. The GTHS School Of Blacksmithing
Location: 1843 State Route 28 Goshen, OH 45122
Type: Blacksmithing, Bladesmithing
Time: 4th-13th November evening classes
Cost: Contact the school for the price
Instructors: Frank House, Joe Seabolt, and Butch Sheely
Telephone: (513) 613-4070
Number of participants: maximum of 10 students per group
Restrictions: No cash payment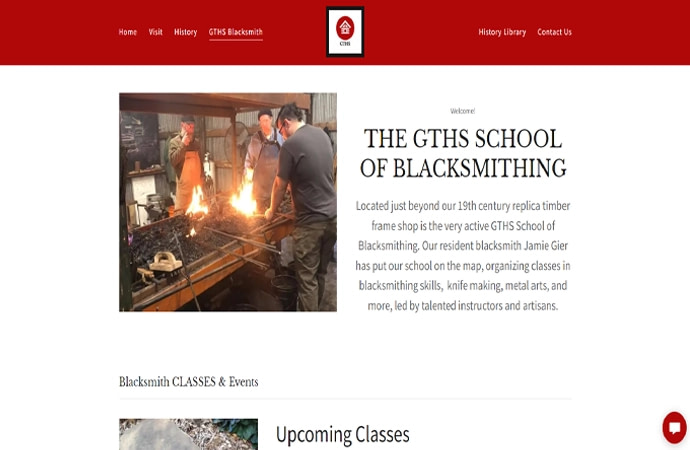 Goshen Township Historical Society School of Blacksmithing is owned and managed by Jamie Geir as an educational center in Goshen, Ohio. The school is part of the Goshen Township Historical Society and was initially constructed as a showcasing shop and later became a blacksmithing class.
With the help of Frank and Seabolt as instructors, they offer lessons on forging the Early American Beltknife in a 3-days seminar for $525. The classes are from 4th to 6th November from 8 am-5 pm daily.
Butch Sheely offers the other class on how to forge the eye tomahawk and a punched eye belt axe at $400. The classes are offered on 12th and 13th November, 8 am-5 pm daily.
Pros
Crafting materials and lunch are provided.
The classes are fun.
They offer gift certificates.
Booking is made online on their official website.
Highly qualified trainers such as Butch Sheely.
Offers excellent historical information about Goshen.
Cons
7. Larchmere FireWorks
Location: 12406 Larchmere Blvd, Cleveland, OH 44120
Type: Glassblowing and Blacksmithing
Time: Short sessions (20-40 minutes)
Cost: $45-$90 per session
Instructors: Casey Straughan
Website:

https://larchmerefireworks.com/

Email: info@larchmerefireworks.com
Telephone: 216-246-4716
Number of participants: small groups and individuals with tickets
Restrictions: No private sessions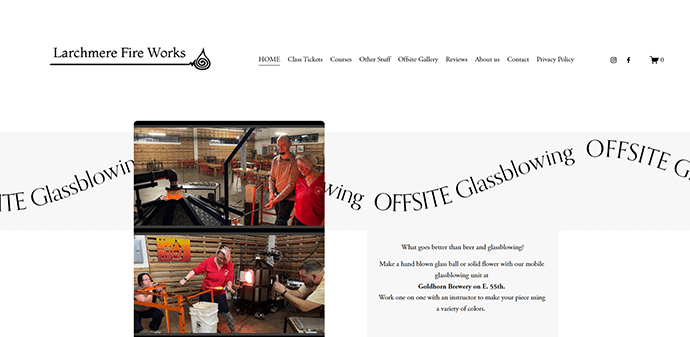 Larchmere FireWorks is a studio owned and managed by Cassidy Anderson & Tina Haldiman to equip learners with valuable skills and art and crafts. The school is focused on providing a friendly environment for various artworks.
Classes are offered in short sessions ranging between 20 and 60 minutes. Once you purchase a ticket, you can take courses without missing one. Casey Straughan does the training from his vast experience.
I would recommend this school to any age group intending to learn more about blacksmithing and glassblowing. // Classes In NYC //
Pros
It is a fun experience for students.
Offers a wide variety of arts and crafts.
Better socialization while class groups.
Has activities for all age groups.
Highly affordable.
Involves donation to charity works.
Cons
If you miss classes, money is refunded, but $10 donations are deducted.
Conclusion
---
Blacksmithing is a hands-on art passed on from one generation through practical experience. It involves forging tools with your own hands from the initial stages to completion. Ohio blacksmithing classes offer a favorable environment for all age groups to learn the art and craft.
Ohio State is well known for blacksmithing and bladesmithing, among other art crafts. The above-listed classes are among the best in blacksmithing in Ohio in 2022.