Can I learn blacksmithing in the bay area? Yes, there are several classes available in the greater bay area for prospective blacksmiths. Although the area is known for being a technology hub, blacksmithing has been a big part of its history for a long time.
Depending on what you want to do as a blacksmith, there are several classes to choose from. Some courses offer artistic lessons, while others aim to teach the basics. I've also seen classes that allow for group work and accommodate families.
If you wish to learn the craft, here are seven blacksmithing classes bay area that I recommend regardless of skill level.
Top 7 Blacksmithing Classes In Bay Area
---
The Bay Area has many classes for aspiring blacksmiths. Here are a few that I recommend;
1. The Crucible
Location: 1260 7th St. Oakland, CA 94607
Type: Welding, Blacksmithing, Glassblowing
Time: 3 -15 hours
Cost: $200 – $470
Instructors: Chris Niemer
Website: https://www.thecrucible.org/
Telephone: (510) 444-0919
Number of participants: 1-6 students per class
Restrictions: Classes cannot have less than six learners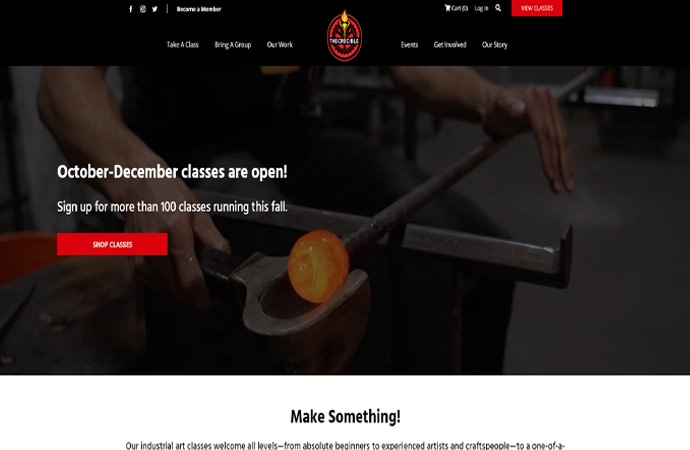 The Crucible was created in 1999 to offer opportunities for local enthusiasts to learn blacksmithing. The organization is non-profit and has grown to become one of the US's most prominent industrial arts collectives.
Since it offers classes to people of all ages, the Crucible is the ideal place for families to learn blacksmithing together. Additionally, courses are tailored to suit each student's skill and knowledge level.
The Crucible's classes often last between 3 and 15 hours depending on what you want to learn. A three-hour class provides the basics, while a commitment of 15 hours gives you in-depth knowledge of the art.  You can enroll online or call the office to reserve a spot. // Classes In Texas //
Pros
Perfect for families and groups of friends as well as team building
Offers scholarships
Provides hands-on classes for all students regardless of skill level
Cons
2. Forged Axes
Location: Oakland, CA
Type: Bladesmithing, blacksmithing
​Time: Weekends
​Cost: $420 – $550
​Instructors: James Austin
​Website: http://forgedaxes.com/
​Telephone: N/A
Number of participants: 4
Restrictions: Students must follow covid safety rules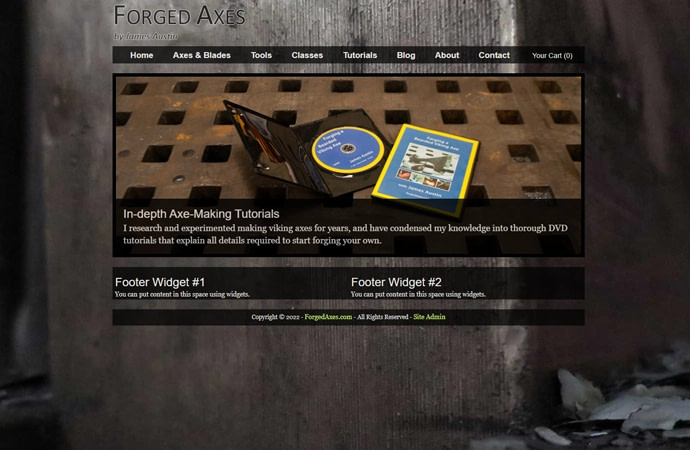 James Austin learned the craft of blacksmithing in Germany for three years and finished in 1985. He spent three more years working and honing his skills in Germany, Italy, and England before returning to the US.
The blacksmith's workshop focuses on knifemaking and ax-making as part of a collection of historical items. His classes offer lessons in traditional metalworking while teaching about the history of Viking culture.
Some of the scheduled classes include bladesmithing, the basics of blacksmithing, and forge welding. I'd recommend James' courses if you're a big fan of Viking history. The Forged Axes website provides information about their courses. Alternatively, you can call their office to inquire and enroll.
Pros
Students can request the subjects they want to learn in class
Small class sizes ensure that each student gets enough personalized attention
There are lessons for beginners as well as advanced blacksmiths
Cons
Ranging between $400 and $600 per class, Forged Axes is expensive.
3. McLellan Blacksmithing
Location: 6961 Horseshoe Bar Road, Loomis, CA 95650
Type: Bladesmithing, Blacksmithing, Welding
Time: 1 – 4 days
Cost: $50 – $150
Instructors: John McLellan
Website: https://mclellanblacksmithing.com/
Telephone: (916) 652-5790
Number of participants: N/A
Restrictions: N/A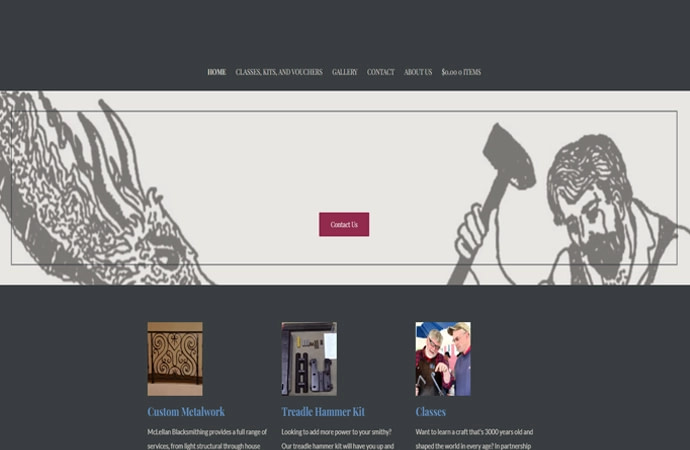 John McLellan, founder, and operator of McLellan blacksmithing started practicing the craft at eight years. He joined the California Blacksmith Association in the late 70s and has gained a lot of industry experience. His connections and skills make his blacksmithing classes some of the most educative in the bay area.
McLellan blacksmithing classes are scheduled according to what the end product of each will be. Classes about making tongs and Damascus knives introduce basic blacksmithing techniques.
John's classes are tailored to each student's skill level and are relatively cheap. I recommend McLellan Blacksmithing courses for anyone with a basic understanding of the craft who wants to sharpen their skills. // Classes In California //
Pros
Classes are tailored to suit each student's knowledge level
McLellan classes are essential to qualify for a blacksmith apprentice certificate
Cons
Students have to be members of the California Blacksmiths Association
4. School of Visual Philosophy
Location: 1065 The Alameda, San Jose, CA 95126
Type: blacksmithing, Bladesmithing
Time: 6 hours
Cost: $150
Instructors: Tracey Chavers, Kristin Fjeldheim, Yori Seeger
Telephone: (831) 205-3406
Number of participants: N/A
Restrictions: Children under the age of 14 are not allowed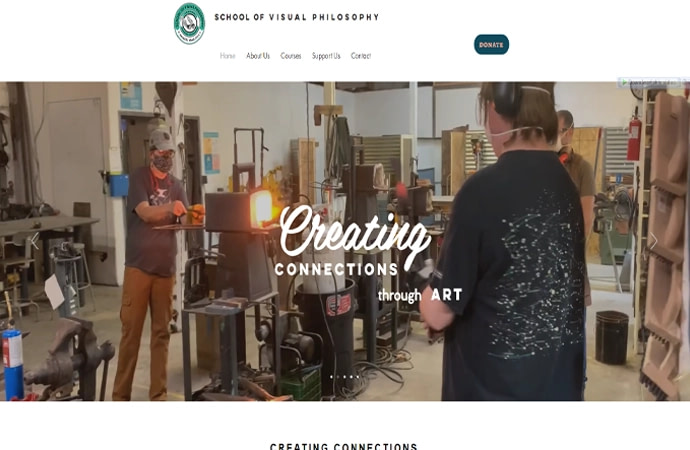 The School of Visual Philosophy was founded in 2013 by Yori Seeger and his wife, Dana. Both husband and wife are professional artists with formal training. Yori is a sculpture artist, while his wife specializes in painting and printmaking.
Supported by the County of Santa Clara and SV Creates, the School of Philosophy offers a wide range of classes, including printmaking, bladesmithing, and blacksmithing. The classes cost an average of $150 and usually classes last half a day. You can visit the school's website to check availability, and costs and to enroll for courses.
Previous learners praise the school, saying that the teachers provide personalized attention, and the atmosphere is fun in class. // Classes In New Jersey //
Pros
Students are allowed to make pieces after a brief introduction
Long classes give students plenty of time to learn
Cons
Children under 14 years are not allowed
5. Metal Works SF
Location: 1544 Grant Ave, San Francisco, CA 94133
Type: Jewelry fabrication, wax casting
Time: 3 hours
Cost: $500
Instructors: Emma Macchiarini
Website: http://www.metalworkssf.com/
Telephone: (415) 260-0096
Number of participants: Up to 12 people
Restrictions: Can only accept up to 12 people per group
Metal Works SF was founded by Emma Maccharini and her father, Daniel Macchiarini, in 2015. The school prides itself on being one of the few woman-led schools in the bay area. 
Classes in Metal Works SF are detailed and intimate, drawing from decades of blacksmithing excellence. Since the school benefits from the knowledge of three generations of blacksmiths, both novice and skilled students stand to learn a lot.
Metal Works SF allows students to enjoy casting and fabricating crafts by hand. Students learn metalwork the traditional way, so they are familiar with the process by the end of the classes. You can easily learn about and join Metal Works' classes on their website. // Classes In NYC //
Pros
Allows students to fabricate crafts by hand
Accepts students regardless of social or economic differences
If a student gets sick and cannot attend class due to quarantine, they can be refunded
Cons
Deposits are rarely refunded, whatever the reason
6. Metal Arts Academy
Location: 1039 High Street, Auburn, CA 95603
Type: Coppersmithing, Jewelry making
Time: 4 days
Cost: Depends on the class you choose but ranges between $55 – $620
Instructors: Michael Kosinski, Douglas Pryor, Keith Ryan, Amber Lidskin
Website: https://metalartsacademy.com/
Telephone: (530) 820-3278
Number of participants: Minimum of 2 students per class
Restrictions: The class has to have at least two students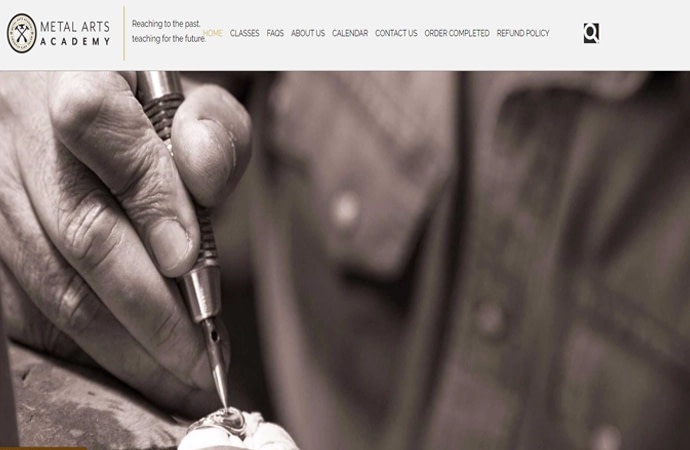 Metal Arts Academy's goal is to provide skills that will allow students to launch careers in blacksmithing while expressing their artistic ideas. The academy's instructors are highly experienced, meaning students get detailed lessons and skills.
Students learn through repetition in an environment that fosters attention to detail. Jewelry lessons include design, casting, fabrication, and chasing. The curriculum is divided into beginner, intermediate, and advanced levels.
The metalwork courses offered include coppersmithing, sculpting, and tool embellishment. To join, you can phone them or visit the Metal Arts Academy webpage.
Pros
Has classes for several different metalworking disciplines
Classes are organized according to skill level
The tutors give each student lots of individualized attention
Cons
Classes are generally expensive
7. Quyle Kilns
Location: 3353 E. Hwy 4 Murphys, CA 95247
Type: Blacksmithing
Time: First Saturday of each month
Cost: Contact to inquire about the cost
Instructors: Tim Mann, Mario Baggiolini, Georg O'Gorman
Website: http://quylekilns.com/
Telephone: (209) 728-9967
Number of participants: N/A
Restrictions: Students must be a member of the California Blacksmith Association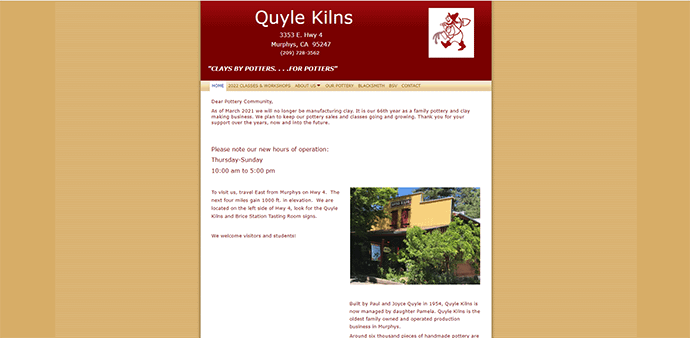 Quyle Kilns has operated since the 80s, making it one of the oldest blacksmithing classes in the bay area sponsored by the California Blacksmith Association. Its blacksmith learning area has five learning posts and one teaching area, each fitted with a forge, anvil, and fire tools.
Classes offered include introductory level and advanced level. Introductory courses target students with no prior experience with blacksmithing, while advanced classes are for blacksmiths who want to hone their skills.
Introductory blacksmith classes (Level one) are held every first Saturday of the month. Advanced-level classes are held on every third Saturday of the month. You can enroll for Quyle Kiln classes online but must be a California Blacksmiths member to attend.
Pros
The school has classes for beginners and relatively skilled blacksmiths
Classes are cheap since the only cost incurred is the cost of materials
Cons
You must be a California Blacksmiths member to attend the workshops
Conclusion
---
Blacksmithing can be a rewarding career if you're drawn to the creative arts. The first step to becoming a blacksmith is enrolling in blacksmithing courses. I'd also suggest you join a blacksmiths association. Joining an association will give you access to more classes and connect you to people who will advance your future career.
There are several courses available depending on where you reside, your budget, and your skill level. Hence, you should research before enrolling in classes to ensure you get the best course. If you want to start your journey in crafting, start with any of these 7 best bay areas blacksmithing classes!